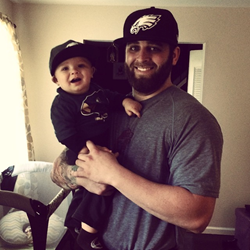 I am thrilled to be a part of Exton's community and I can't wait to start changing lives!
Exton, Pa. (PRWEB) July 27, 2015
Matt Rehrig, owner and founder of the Exton Fit Body Boot Camp, is hosting a Grand Opening event on Thursday, July 30th from 5-7 pm at his facility located off 113 at 35 E. Uwchlan Ave Suite 332 Exton Pa., 19341. The event will feature food, music, free massages, door prize giveaways, and a ceremonial ribbon cutting. With a small donation of $5, attendees can participate in the five minute boot camp sessions which will occur every 20 minutes.
Fit Body Boot Camp is the world's fastest growing and most popular indoor fitness boot camp brand, with hundreds of locations worldwide. The boot camp's unique brand of fitness combines individualized personal training from licensed professionals, clinically proven Afterburn workouts, and nutritional guidance to guarantee weight loss results.
"I am thrilled to be a part of Exton's community and I can't wait to start changing lives!" said Rehrig, "I firmly believe that small businesses are the backbone of America and I want to be a difference maker in the community."
Attendees participating in the raffle will have the opportunity to win a variety of beauty supplies from local businesses, including product baskets from Mary Kay Beauty, Evolution Salon, and Gemini Hair Design Studio & Spa. Families with young children may be interested in winning one of several available gift cards to bounceU, a popular party planning service. Additional support and prizes will be provided by Vital Touch Wellness, Allstate, and Modell's Sporting Goods.
In addition to raising funds for the new location, Rehrig plans to support the Delaware Valley Chapter of the Cystic Fibrosis Foundation.
"I have a personal connection to CF through my best friend," he says, "He has struggled with CF for his entire life and just recently there have been some huge breakthroughs that were funded by the CF Foundation." He goes on to explain that such breakthroughs "are made possible by events like this."
While Rehrig has not announced a specific fundraising goal for the event, he hopes to raise "as much as possible" with the help of attendees. The $5 donations from the five minute boot camp sessions will drive the fundraising, so he is encouraging all attendees to "show up in your workout clothes for a good cause!"
About Exton Fit Body Boot Camp:
Exton Fit Body Boot Camp is a part of the Fit Body Boot Camp family of indoor fitness boot camps, whose global goal is to engage 20% of the world's population in a healthy and fit lifestyle by the year 2020. Exton Fit Body Boot Camp is owned and operated by Matt Rehrig. Rehrig is committed to helping members of the Exton community set and accomplish their own health and fitness goals.
For more information about Exton Fit Body Boot Camp, please call:
(484) 713-4272
Visit their website at:
http://www.fitbodybootcamp.com/extonfitnessbootcamp/
Or their Facebook page at:
https://www.facebook.com/pages/Exton-Fit-Body-Boot-Camp/386790604848700