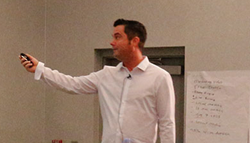 There are few sales funnels that would not benefit from a makeover, and the Extreme Funnel Makeover is one of the most complete training systems available
New York, NY (PRWEB) September 30, 2015
A dedicated sales funnel is one strategy that small business owners use to improve annual sales for products and services each year. The Brian Hanson company has now published its Extreme Funnel Makeover full review for 2015 to provide the pros and cons of this marketing platform. The review is available to access at http://brianhanson.com/clickfunnels-review.
Changes in several e-commerce systems have made it more difficult for a regular consumer to order products through a standard web checkout system, according to the review. By incorporating some important tweaks, companies that sell digital or physical products could increase revenue and a customer base using the EFM system.
"There are few sales funnels that would not benefit from a makeover, and the Extreme Funnel Makeover is one of the most complete training systems available," said a training expert at the BrianHanson.com company.
One of the highlights, according to the posted review, is the exact templates that are provided for multiple small business niches in the EFM 2015 system. New startup companies, established companies or entrepreneurs who are having difficulty increasing sales conversions receive "done for you" templates in the training supplied.
"Some marketers think that increasing website traffic is the way to earn higher revenues, but the real results are built with a stronger funnel," said the expert.
The Brian Hanson website remains a resource for new and existing marketing professionals to access to gain knowledge and insight for new promotional strategies. A series of bonuses are currently in development to provide an extra source of information for business owners or marketers who access the Extreme Funnel Makeover course for the remainder of this year.
About BrianHanson.com
The BrianHanson.com company owns and operates hundreds of client websites in financial, automotive and niche product industries in the USA. The company uses a team of professionals to generate leads for clients. The BrianHanson.com company now publishes complementary information for up-and-coming marketers to access from the company website.