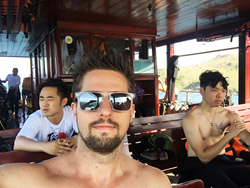 With this app, adventure sport enthusiasts don't need to know someone who knows someone. Explore, connect, engage and do more of what you love!
Sydney, Australia (PRWEB) April 26, 2016
exscene is a startup based in NSW, Australia. Its founder, Tim Williams, is an avid adventure sport enthusiast and traveller. He is the type who goes around the world to explore and engage in unique experiences offered by different locales.
To get the most out of these trips, Tim said, "You need to do extensive research and network to find the good spots, even if you're not travelling and want just want to know the local scene".
A recent Vietnam trip proved that lack of research and local connections can turn a well-earned vacation into a wasted opportunity. Because of his strict schedule, he just had one day to dive the waters of Vietnam. He trusted the wrong dive center, one that promised a marine sanctuary but delivered what looked like an abandoned shoal, with just a handful of fish and coral formations.
His experience is not different from other travellers. It is one that emphasises connection and pre-trip research. This is not always possible when travellers are working to earn enough to fund trips.
exscene, the application, was developed with this in mind. The name means "to explore your extreme scene." It means connection in real-time, with people who are doing the same extreme sports as you right now.
exscene makes use of geomapping and LiveConnect technologies to create real engagements with extreme sports enthusiasts, in real time. This makes a whole world of difference for anyone trying to plan a trip or simply wanting to do more of what they love in their home town.
exscene wants the extreme sports community to pitch in and shape the app that's designed for them. It is currently seeking 250 more beta users who will use the site critically and help empower the extreme sports community.