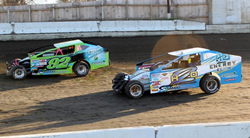 MIDDLETOWN, N.Y. (PRWEB) March 08, 2019
With Extreme Energy Solutions having a presence in the racing community "From Dirt to Daytona," the green tech company continues its tradition and practice of branding its technology and products throughout the local and regional racing community. It was just four years ago that the brands of SMART Emissions Reducer, Extreme Kleaner, H2O Energy Flow, Extreme Xtra Fuel Treatments, E-Missions Automotive Intelligence and E-Tech Performance would debut on the sides of DIRT Car Modifieds, mostly seen at the Orange County Fair Speedway (Middletown, NY).
Jeff Heoztler will be back for 2019, representing the company's brand, "Extreme Energy Solutions-Innovation that Moves You" in the #J17 JHR Big Block DIRT Car Modified.
The partnership between Heotzler and Extreme yielded fruit for both participants, as Heotzler put Extreme into Victory Lane three times since the partnership began. Two of those wins came in 2018, with the Jeffer claiming the double purse payday the last race of regular season. Heotzler also took the outside pole at Eastern States Weekend 2018. The JHR Big Block had some good runs in selected Super Dirt Series Races at "the Hard Clay" 5/8th mile speedway, where the Jeffer calls home.
"JHR is extremely excited to partner once again with Extreme Energy Solutions for the 2019 season," Heotzler added. "Coming off an incredible end of season run, JHR is looking forward to great things in the coming year. Along with a weekly schedule at OCFS, JHR with Extreme Energy Solutions may venture to select special race events. We look forward to seeing you at the races."
"Working with Jeff has been a great pleasure. He is not only one of the best drivers in his class, he is an innovator," commented Samuel K. Burlum of Extreme Energy Solutions.
"Jeff has a keen engineering sense and has applied his Hall of Fame career to the equipment side of the sport, so in addition to putting Extreme in Victory Lane, Heotzler is influencing the next generation of chassis design."
Heotzler has amassed 152 wins and over a dozen championships on the books, leading him to a Hall of Fame induction in 2016.
Tommy Vigh Jr. will move up full time in to the DIRT Car Small Block Modified division as the pilot of the #92 Extreme Kleaner by Extreme Energy Solutions Bicknell Supplied Machine, after having a stellar season in the Sportsman ranks in 2018. Vigh finished 5th in points in the Sportsman Division at the Orange County Fair Speedway by the end of the regular season, where Vigh would take the #H2O -H2O Energy Flow by Extreme Energy Solutions Bicknell Crate Sportsman from a dead last position to finishing 5th during the Eastern States Weekend Sportsman feature, earning the Hard Charger Award. He was voted 2018 Most Popular Sportsman Driver of the Year.
Vigh carried the momentum onto Saturday at ESW as driver of the #92 Extreme Kleaner by Extreme Energy Solutions Small Block Modified. Vigh would race himself into a starting position in the 25 lap B Main Race, starting again from the tail of the pack and chasing down a top 10 finish (8th). It was Vigh's first Eastern States Weekend Small Block Modified contest.
Vigh's biggest break was his promotion to ARCA, where the DIRT Car driver would find himself behind the wheel of Andy Hillenburg's Fast Track Racing Enterprises #10 Extreme Kleaner-SMART Emissions Reducer by Extreme Energy Solutions Toyota for his ARCA debut at Madison International Speedway on June 15, 2018. After finishing 15th in his first ARCA start, Vigh would go on to make two more ARCA starts for the year, finishing 12th at Illinois State Fairgrounds, and 13th at DuQuoin State Fairgrounds.
"The partnership with Extreme Energy Solutions has been nothing short of a great opportunity. I have been provided the chance to get behind some top notch equipment and expand my career resume with promotions and successes in DIRT," said Vigh.
"These last few years have provided for some of the most memorable and fun moments in my career. I am so grateful to have been able to connect with many local race fans that would come out and support me during the season. I look forward to doing my best for all of the race fans, crew, sponsors and marketing partners in 2019."
"The partnership with Vigh has been ideal. Vigh has done everything we have asked him to do to support our brands, and he has really taken charge of that role. We will continue to build on these successes moving into 2019. I also would like to thank the commitment made by the crew. Every week they make a point to prepare the equipment for the best possible outcome," Burlum mentioned.
Extreme Energy Solutions will look to promote Aidan Elliott from Slingshot to Rookie Sportsman Crate Division for selected testing and short track debuts. The 13-year-old, nicknamed "the Mayor", will have a chance aboard the #11 SMART Emissions Reducer by Extreme Energy Solutions machine. Elliott has ten wins to his credit between slingshot and go-cart.
"This is great news as I work my way up to the upper ranks of racing," said the young Elliott, "I can't wait to get back in the car."
"As Extreme Energy Solutions continues to grow its brands from Dirt to Daytona, we will always commit to having brand representation and a connection with the audience that first gave our products a chance. As a result of our commitment, we have added a number of new retailer partners to the roster that offer Extreme products near local-regional racing venues," concluded Burlum.
Extreme Energy Solutions Inc. is a green tech company that develops, manufactures, markets and distributes technology and products that reduce impact on the environment. Extreme Energy Solutions is the proud provider of the SMART Emissions Reducer, a technology that was designed to lessen emissions output while increasing engine efficiency. Extreme Energy Solutions also offers its automotive diagnostic and emissions repair platform E-Missions Automotive Intelligence/E-Tech Performance. Other products found in over 500+ retailers offered by Extreme Energy Solutions include Extreme Kleaner, H20 Energy Flow and Extreme Xtra Fuel Treatments. Extreme Energy Solutions and its SMART Emissions Reducer and Extreme Kleaner brands are Official Partners of Daytona International Speedway, Daytona 500, ARCA Menards Series, and Bethel Motor Speedway. For more information visit http://www.ExtremeEnergySolutions.net