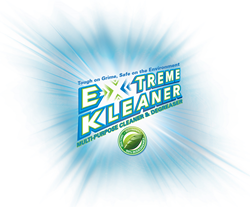 EAU CLAIRE, Wis. (PRWEB) March 01, 2019
"Save big money at Menards," on Extreme Kleaner! The popular non-toxic biodegradable multi-purpose cleaner-degreaser product is back on the shelf at Menards for 2019, for a 90 day End Cap Promotion. Extreme Kleaner was originally introduced throughout the Menards store network in 2017, when Extreme Kleaner got its first opportunity to be introduced to Menards' customers.
Menards was the first corporate owned retailer chain to give Extreme Kleaner a try and offer it to its customers, with over 300 store locations throughout fourteen different states: Ohio, Michigan, Indiana, Illinois, Wisconsin, Minnesota, Missouri, Nebraska, Kansas, South Dakota, North Dakota, Wyoming, and Kentucky.
Menards is a privately held company, founded in 1960 by John Menard, Jr., and specializes in home improvement, home goods, farm and ranch supplies, and building materials. Menards operates four distribution warehouses which service the string of Menards locations, while maintaining its corporate campus in Eau Claire, Wisconsin. The retailer that claims, "Save Big Money at Menards" has stuck true to its calling by offering Extreme Kleaner at a discounted rate to its customers.
Extreme Energy Solutions has launched its marketing campaign to help promote Extreme Kleaner, including a series of print and media advertising, social media campaigns, motorsports marketing campaigns, and new video content highlighting the two available formulas: Extreme Kleaner Multi-Purpose Cleaner-Degreaser and Glass, Tile and More formula. Menards now has the product listed on its website, offering the product direct to customers online. Order today by clicking here!
"We are very grateful and appreciative of the opportunity to partner with Menards. Menards is a strong retailer partner and they have a desire for our brand to be successful in their stores," commented Samuel K. Burlum, CEO and President of Extreme Energy Solutions, Inc., the parent company of Extreme Kleaner. "We value our relationship with Menards and look forward to a successful Extreme Kleaner product campaign."
"For 2019, we elevated our strategy to promote Extreme Kleaner now in Menards, by way of marketing Extreme Kleaner to race fans throughout the ARCA Menards Racing Series," added Burlum. Extreme Kleaner is a Proud Sponsor of the ARCA Menards Racing Series.
Extreme Kleaner is a non-toxic biodegradable cleaner-degreaser manufactured in the United States, which originates from the Garden State, where it is packaged for consumers around the nation.
A portion of every sale of Extreme Kleaner is dedicated toward assisting local and/or regional causes. Former causes which received the benefit of this initiative include Project Help, a cause aimed at helping to eradicate Veteran Homelessness, STEM Education, the performing arts, and non-profit educational forums for environmental and economic sustainability. The product's parent company, Extreme Energy Solutions has also helped sponsor local 5k runs for many good causes.
Last year, Extreme Energy Solutions and Extreme Kleaner promoted their Brand Ambassador and DIRT Car Race Car Driver Tommy Vigh Jr. to debut in the ARCA Racing Series Presented by Menards. Vigh is set to continue driving in the ARCA Racing Series for 2019, and can be seen behind the wheel of the #10 Extreme Kleaner Main Street Premium Brand ARCA Race Car, provided by Andy Hillenburg's Fast Track Racing Enterprises.
ARCA Racing Series events are televised on FS1, FS2, and MAV TV. For complete racing schedule, visit http://www.ARCAracing.com.
Extreme Energy Solutions and the Extreme Kleaner brand are also Proud Partners of the Daytona International Speedway and Daytona 500 (new for 2019), and had celebrated its Daytona Partnership with a launch at 2019 Daytona Speedweeks, including giving away product samples, racing related fan zone promotion items, and driver autograph sessions and photo opportunities.
The 90 Day Extreme Kleaner Promotion is scheduled to run from March 1st through end of May 2019.
Extreme Kleaner has recently launched its new website, http://www.extremekleaner.com/menards/ which provides all of the Menards locations which now offer this product.
Individuals looking to seek to try the product may obtain a product sample (while limited supplies last) by attending ARCA Racing Series Presented by Menards Race Events during the 90 Day Promotion.