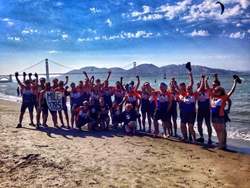 I ride these rides to be an inspiration to others that have been diagnosed and to raise money for research and service projects along the way.
Parker, CO (PRWEB) August 04, 2015
Chad Davis, owner of Farrell's eXtreme Bodyshaping, is not only known for helping people achieve their ideal bodies but as a supporter of causes, that aid those who have diseases that affect the body, such as multiple sclerosis. Currently, Chad is supporting one of his members in Bike the US for MS, which was a 62-day, 3785 mile bike ride from Yorktown, Virginia to San Francisco, California, that raised awareness and money for MS. Recently, Chad and his team at Farrell's eXtreme Bodyshaping participated in MuckFest, a 5k mud obstacle run that raised funds for multiple sclerosis.
"These tours follow America's most traveled cross-country routes and combine an important cause with an incredible experience," said Chad. "We not only encourage our members to raise awareness of MS but also support our members with MS."
One such eXtreme Bodyshaping member is Linda Huyck, who participated in Bike the US for MS in 2013 and 2014 and now again in 2015. Linda was diagnosed with MS in 2003.
"It was a super scary time in my life. I had no idea how this disease would affect me, my life and my family," said Linda, a mother of four. "I ride these rides to be an inspiration to others that have been diagnosed and to raise money for research and service projects along the way."
Linda gives credit to eXtreme Bodyshaping and Chad for inspiring others to help support the cause. Linda espouses Chad's belief that the level of commitment and effort one invests into their fitness goals can be a direct reflection of their life. "If you put in a half-hearted effort at the gym, that's going to be a reflection of your life also," adds Chad. "People who put in all they have are the ones who prosper in their personal and professional lives."
Chad frequently organizes teams from eXtreme Bodyshaping to participate in events supporting various charitable causes. He sees giving back and encouraging more people to get involved in community events as an essential part of his own life and personal goals. Farrell's eXtreme Bodyshaping has a high level of camaraderie because of this philosophy of the true meaning of why everyone is in the gym.
Farrell's eXtreme Bodyshaping is located at 11280 South Twenty Mile Road, suite 108, Parker, CO 80134. For more information, please call (720) 376-9548. For more information about Bike the US for MS in order to participate or make a donation, please visit http://www.biketheusforms.org.
About Farrell's eXtreme Bodyshaping
Farrell's eXtreme Bodyshaping is a results-based fitness program for participants of any age, lifestyle, gender or athletic ability. The program was developed by Lance Farrell, a long-time taekwondo competitor and teacher. It was developed specifically to combat obesity and to help people develop healthy lifestyle habits by incorporating the fat-burning, strengthening and endurance-building aspects of competitive martial arts training into a course for regular people who aren't interested in sparring or contact drills.
About NALA™
The NALA offers local business owners new online advertising & small business marketing tools, great business benefits, education and money-saving programs, as well as a charity program.
Media Contact:
Tiffani Tendell
news(at)thenala(dot)com
805.650.6121, ext. 361