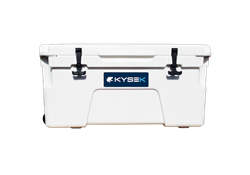 Extreme Cold LLC is introducing a new versatile 35 Liter size to its lineup of Ultimate Ice Chests. The 35 Liter is the first in a new series of premium roto mold Ice Chests, rich in features and benefits, that surpass the competition – the KYSEK™!
Las Vegas, NV (PRWEB) January 21, 2015
Today, Extreme Cold LLC announces availability of the first ice chest in its new line of premium coolers, the KYSEK™. The 35 Liter fills a niche between the 25 Liter and the 50 Liter and fits comfortably in a back seat, in addition to the features that the Extreme Cold Series™ Ice Chests are known for – Integrated Heavy Hauler™ wheels, built in cutting board, fish ruler, drain system, and the DuroCold™ construction that keeps ice for 10 days.
The KYSEK™ has additional features that make it stand out against the competition. The KYSEK™ has stainless steel corners with a built in bottle opener, dual accessory ports in the interior lid, and all sizes are bear resistant certified. Our PosiLatch™ rubber latches, EasyGrip™ Handles, and ZeroSkid™ non-slip feet have all been improved and upgraded.
We have a new accessory, CodeBlue™, a Bluetooth temperature sensor that fits in the accessory port. We will be introducing several other accessory port devices this year. The KYSEK™ line is available in 25 Liter, 35 Liter, 50 Liter, 75 Liter, 100 Liter and 150 Liter in Marine White, Camo Tan, Olive Green, and Purple and Gold.
Extreme Cold is a quality engineering, design, and manufacturing company. We are a global company with key partnerships in Southeast Asia and China for quality manufacturing. We leverage our knowledge and partnerships to provide turn-key services, delivering products from concept to your local store. For more information, please visit http://www.extremepe.com or http://www.extremecoldseries.com.
KYSEK™, Heavy Hauler™, Extreme Cold Series™, DuroCold™, PosiLatch™, EasyGrip™, ZeroSkid™, and CodeBlue™ are either registered trademarks or trademarks in the United States and/or other countries. The names of actual companies and products mentioned herein may be the trademarks of their respective owners.