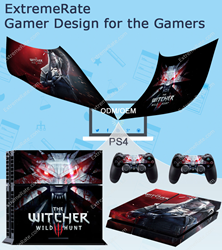 PS4 & Xbox One Skin Decals are the next big thing for ExtremeRate.
(PRWEB) June 16, 2015
ExtremeRate, a video game accessory wholesale company, has released a new products line of PS4 and Xbox One skin decals. The line consists of stickers that are professionally made with their "Extreme Cutting" technique and high quality materials. The skin decals are unique because they are made by gamers for gamers, so the company knows firsthand what their customers are looking for.
Professional Design:
ExtremeRate stands out amongst the competition due to the professional design of their products. Additionally, the offer ODM services for customers who want to provide an image and have the company create a custom designed skin decals.
Extreme Cuttings:
It's common for PS4 or Xbox One skin decals suppliers to use a normal cutting on their products so that they can save money. However, this method can cause the edge of the stickers to begin to lift a month or two after installation. That's why ExtremeRate uses the "Extreme Cuttings" method, this technique helps them eliminate the risk of the lifting problem.
No Glue Stay After Removal and No Air Bubbles:
Another problem often found with skin decals, is that the company uses bad glue that leaves residue after removal. ExtremeRate's skin decals are made of high quality glue that are residue free. Additionally, air grooves are combined with the glue, which helps make the installation process easy. It also creates a smooth surface when the application is finished that is air bubble free.
Excellent Print and High Quality Protective Film:
A lot of suppliers will print their decals with a 4 color industrial printer on low class protective film. ExtremeRate believes that this is not the best solution for printing, and instead prints on an HP Indigo WS6600 professional printer. This makes for high quality skin decals that are made at a faster speed. They also use matt polished protective film so that they deliver the best skin decals in the industry regardless of the color or texture.
About ExtremeRate:
ExtremeRate is a professional video game accessory wholesale company that takes pride in providing high quality accessories for the gaming community. They offer products for the Xbox One, Xbox 360, PS4, and PS3. All of their skins, buttons, and shells will fit the controllers perfectly without having to remove any of the components. They can ship worldwide within 24 hours and offer free return if there is a quality problem. For more information please go to http://www.extremerate.com, http://blog.extremerate.com.