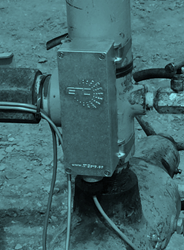 Oil and gas producers using select ROC and FloBoss controllers for plunger lift are now able to read and react to surface velocity using the Sasquatch plunger velocity sensor.
Calgary, Alberta (PRWEB) August 04, 2016
The Sasquatch Plunger Velocity Sensor ("Sasquatch") is the next stage in the evolution of plunger detection. In the artificial lift system called plunger lift, Sasquatch will measure the surface velocity of the plunger in addition to detecting the plunger arrival. Repetitive fast plungers are a common problem in plunger lift causing costly damage to equipment and production downtime. Damage to surface equipment, such as a lubricator breach, can lead to incident reports, spills and injuries. Sasquatch gives producers the power to prevent these occurrences by enabling detection of fast plungers long before they cause problems. To read a related case study, click here.
Production Manager Well Optimization ("PMWO") is an advanced user program designed to maximize production from oil and gas wells. The program is intended for either the ROC800-Series Remote Operations Controller or the FloBoss™ 107 Flow Manager.
The attached application note will detail the device setup so PMWO can communicate with Sasquatch. Additional configuration to retrieve and store the surface velocity in PMWO's logging features will be described in later sections.
About Extreme Telematics Corp.
Extreme Telematics Corp. (ETC) is an engineering firm specializing in low power controls and sensors for hazardous locations. Celebrating 15 years in business and innovation in 2016, ETC started out in 2001 to deliver certified plunger lift controls that would operate reliably in Canada's often harsh conditions. Today, ETC plunger lift controls and sensors dominate the Canadian market, and are already the top choice for major producers in the United States. In addition to the patent-pending Sasquatch plunger velocity sensor, ETC's product line includes the well-known Cyclops plunger arrival sensor and the recently released Iris Wireless Bridge. The ALiEn² plunger lift controller with patented Adaptive Seeking Velocity Optimization™ is available worldwide, and can be found on thousands of wellsites in a variety of custom plunger lift service company brands. ETC also offers electronic product design services for custom projects.