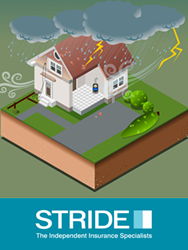 Having preventative measures in place puts landlords in a better position to make a successful claim and get the property back up to standard
Portsmouth, Hampshire (PRWEB UK) 4 November 2014
Landlords, are your properties ready for winter weather?
Britain is experiencing increasing levels of extreme weather conditions, which can have devastating effects on landlords and tenants alike. Yet many property owners are still not prepared for the full range British weather such as snow, ice, floods and storms.
Stride's weather infographic is a useful tool for landlords that explains the numerous ways weather poses a risk to property, with advice guides for landlords and homeowners on how best to protect their buildings and livelihoods.
Increasing number of severe weather events
We are seeing an increasing number of gale force winds sweeping over the UK, many being the tail end of Atlantic hurricanes, most recently Bertha, St Jude's and Gonzalo. Over £400 million* was paid out by insurers to cover repair and clean-up costs following the winter storms of 2013, and many landlords are still dealing with the aftermath and lost income.
Major flooding events have become a frequent occurrence over the past decade, with much of the Thames Basin and West Country feeling the effects of wetter weather. By the time homeowners have recovered from one event, they are faced with yet more flood warnings.
Over half of homeowners are not covered for storm and flood damage
New research has revealed that over half of homeowners are still unprepared for possible flooding this winter, with 60% confirming their property is not insured for flood damage. Although a huge number of property owners are not covered for flooding, it seems that many are aware of the possibility, as 65% of people check the flood risk when purchasing a new property.
Landlords are taking a proactive approach
A report carried out by My Private Ark** found that 88% of landlords take extra precautions to prevent and protect their properties from future damage. It appears that landlords have heeded lessons from the last few years, where many have had to pay for repairs and damage to buildings and contents out of their own pocket, as a result of not having sufficient insurance cover.
Understanding the risks
There appears to be blindness when it comes to changing weather patterns. As we experience highs and lows of weather, many take the 'it won't happen to me' approach. Most significantly, 45% are simply unaware of the steps they could take to minimise damage to their property.
This interactive Extreme Weather Infographic from Stride highlights the main areas susceptible to extreme weather conditions. It also offers landlords links to useful guides on how to protect let property against weather damage. The tool covers snow and ice, storms, flooding, sun and heat, a great place for landlords to start preparing for the winter.
Regardless of whether the property has been subjected to flooding or not, it is imperative that the building, contents and residents are fully protected. Stuart Piper, Property Account Manager from Stride commented "Managing storm and flood claims for the winter of 2013-14, we found the biggest problem landlord's faced is tenant displacement due to recovery time and money. Having preventative measures in place puts landlords in a better position to make a successful claim to ensure the property is safe and habitable."
Stride Limited, established in 1973, is a specialist provider of Property Insurance for Landlords. Click here for an online property insurance quote or call 0800 840 6699.
** My Private Ark - suppliers of flood defence systems
---END---
Stride Limited, Registered Office 3 Acorn Business Centre, Northarbour Road, Portsmouth, Hampshire PO6 3TH. Registered in England No. 1122247. Stride Limited is authorised and regulated by the Financial Conduct Authority.
Notes to editors – Stride Limited
To find out more about Stride Limited visit http://www.stride.co.uk/, email info (at) stride (dot) co (dot) uk
or call 023 9224 870.
Alternatively, contact Rebecca Bluff by email to rebecca (dot) bluff (at) stride (dot) co (dot) uk
or call her on 023 9224 8733.
To find out more about Property Insurance for landlords from Stride Limited, visit http://www.stride.co.uk/ or speak to the team on 0800 840 6699 or 023 9224 870.
keep up to date with insurance market news and views on Twitter: @stridegroup and Linkedin