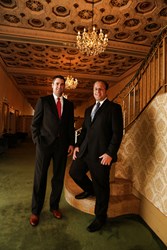 Fort Lauderdale, Florida (PRWEB) September 17, 2013
Exults Internet Marketing is pleased to announce that its Founder and CEO Zach Hoffman, along with Shawn Oden, Senior Vice President, Middle Market Banking with JP Morgan Chase, will co-chair the Broward Center for the Performing Arts Ghost Light Society's Annual Soirée "Studio 54: You've Never Been Anywhere Until You've Been Here" fundraising event. The Soiree will take place on Saturday, October 19th at 8:00 p.m. at the Parker Playhouse (707 NE 8th Street) in Fort Lauderdale and will transport guests back to the most famous night club of all time – Studio 54. When guests arrive and tell the bouncer, "I'm on the list," they will step back into the '70s, just as disco fever was reaching its star-studded peak in NYC, and will experience VIP treatment as they enjoy cocktails, savor the dining fare, dance under the disco ball, and bid on silent auction items.
As a local Fort Lauderdale business owner and leader, Zach Hoffman is extremely passionate about "giving back" to the community, and is especially thrilled to be co-chairing the Ghost Light Society's annual event this year. He is involved with numerous philanthropic endeavors throughout South Florida, and is especially passionate about those non-profit organizations and events that benefit children, education and programs that expose children to the arts.
"I'm really excited to be co-chairing this year's Ghost Light Society's Annual Soiree – a fantastic event that helps to raise awareness and funds to support the Broward Center's arts-in-education programs for students," said Zach Hoffman, Founder and CEO of Exults. "As a local entrepreneur, I think it is extremely important to help give back to our community, especially with organizations like the Ghost Light Society that provides programs that engage our younger generation."
The Ghost Light Society's mission is to engage and inspire a new generation of patrons to take an active role in promoting, celebrating and supporting the performing arts. This year's fundraiser will benefit the Broward Center's arts-in-education programs which provide activities that engage students of all ages and enable them to learn in the most effective and creative ways.
Tickets for the event are $85.00 for Ghost Light Society Members and non-members up until September 18, 2013. After September 18th, the cost is $105.00 per person for non-members. To purchase tickets, please contact Terri-Ann Chung at 954-414-6908, email ghostlight(at)browardcenter(dot)org or visit http://www.ghostlightsociety.org. Sponsorship opportunities are also available. For sponsorships, please contact Joanna Duran at 954-468-3284 or jduran(at)browardcenter(dot)org.
The Platinum sponsor for the event is the Florida Panthers. Gold sponsors include City Furniture, Exults, SunTrust, Greenberg Traurig, P.A., Gibraltar Private Bank & Trust, and Chase. Silver sponsors are BBX Capital, Cliff's Pools & Patios, Greenspoon Marder, Laura and Charlie Palmer, Southport Properties, Inc., Stephen Douglas Associates, Brown & Brown and Ultimate Software; and Bronze sponsors include Jonathan Keith – Coldwell Banker Las Olas, Emerald Asset Advisors, Kip Hunter Marketing, Michael Hoffman, Esq., Sarah Regensdorf, Realtor, and Dr. & Mrs. Alan Routman. Bryan Loconto, Blondevents and Las Olas Social are in-kind sponsors. (As of 8/14 /13)
In addition to Event Chairs Zach Hoffman and Shawn Oden, the Committee Co-chairs are Shayna Freyman and Amanda Routman. Host committee members include Tim Cronin, Joanna Duran, Falyn Freyman, Heather Geronemus, Jené Kapela Korzeniowski, Brad Minto, Jen Nayak, Marla Neufeld, Peter Neirouz, Shawn Oden, Ashley Palmer Lindsay, Wes Parker, Lindsay Raphael, Sarah Regensdorf, Alexia Rineheart, Christina Sacco, Matt Sacco, Ashley Sawyer Smith, Alexandria Scherer, Jonathan Schwartz, Jeremy Singer, Theresa Strub, Sara Walters Smith, Pablo Urquilla, Neal Victor and Kelly Alvarez Vitale.
The Broward Center for the Performing Arts is one of North America's premier performing arts venues and the cultural heart of Broward County. Presenting more than 700 events each year to more than 600,000 patrons, the Broward Center offers a wide range of exciting cultural programming and events to South Florida residents and thousands of tourists annually. The Broward Performing Arts Foundation, a 501(c)(3) not-for-profit corporation, receives and maintains funds to promote, foster, sponsor and develop the Broward Center for the Performing Arts. The Broward Center is located at 201 SW Fifth Avenue in Fort Lauderdale.
As Founder and CEO of Exults, Zach Hoffman oversees and manages the day to day operations of the booming Ft. Lauderdale based internet marketing agency that is RESULTS DRIVEN for its clients. Exults offers a full menu of internet marketing services including Organic Search Engine Optimization, Pay Per Click Management (PPC), Website Design, Search Engine Marketing, Facebook and Social Media Management, Online Image Enhancement, Video Optimization and Analytics Reporting. For more information about Exults, please call 866-999-4736 or visit ww.ExultsCares.com.