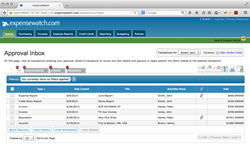 The new ExpenseWatch Empowered Approvals gives our approvers the ability to configure what they want to see in one view, enabling them to quickly and accurately make approvals. - Paula McChristian, Greater Raleigh Convention and Visitors Bureau
Plymouth Meeting, PA (PRWEB) September 16, 2014
ExpenseWatch today unveiled Empowered Approvals, transforming the approval process experience across its entire spend management software suite. The new configurable interfaces empower those who approve transactions to make intelligent, informed approval decisions supported by the information they deem most valuable.
"Our new Empowered Approvals enables customers to be truly accountable for the spending they manage," said Bill Vergantino, president and CEO of ExpenseWatch. "The ability to uniquely configure what and how approval information is presented provides great flexibility and maximizes efficiencies for each approver and organization."
"As a governmental agency, ensuring that every dollar spent is approved and correctly accounted for is critical," said Paula McChristian, director of finance and human resources for the Greater Raleigh Convention and Visitors Bureau. "The new ExpenseWatch Empowered Approvals gives our approvers the ability to configure what they want to see in one view, enabling them to quickly and accurately make approvals, and to easily drill into select transactions should the need arise for closer inspection. Our employees welcome and embrace tools that offer efficiencies like Empowered Approvals, because it maximizes their time so they can stay focused on our core objective of promoting the greater Raleigh area."
ExpenseWatch approvers receive an email alerting them that transactions are awaiting their approval. Once logged into the system, the Approval Inbox provides summary level information for each transaction awaiting review.
Approvers can select what information fields they want to see in this summary level view from numerous options, such as transaction type, submitter name, dollar amount, over budget, whether attachments or comments are included, and more. Approvers can drag and drop selected columns in the order they prefer to see, and sort transactions by column headings. Additionally, approvers can create any number of tabs, each representing a different view of transactions by specifying filter criteria.
The inbox can be easily configured to include the information approvers need to make informed approval decisions, and then leverage the bulk Quick Approve function to quickly approve a number of transactions at once.
Approvers may also drill into a transaction to view its details. The transaction detail screen offers the same flexibility for users to select and order which columns appear in the detail view and also have the ability to sort the line items by column headings. Each line item can also be drilled into further to view line item details.
In addition to the line item view available at the transaction detail level, approvers have a print view that enables them to configure information to print. For expense reports, there is a category view which sorts the report by category spending, and a receipt view to cycle through all receipts that have been attached at either the header or line item level of a report, enabling approvers to view expense details next to the receipt.
In the line item view, out-of-policy spending is flagged and approvers can approve or reject all line items, or approve and reject portions of a transaction line by line. Approvers can save partially reviewed transactions to finish later, as well as add approvers on the fly or set up delegate approvers to temporarily manage approvals should the need arise.
Also included on the transaction detail screen is an option to run analytical reports to assist in an approval decision. For example, a budget vs. actual report can show the impact approving a transaction will have against the budget at the business unit and general ledger account level.
When the transaction is fully reviewed, approvers select the process button to forward approved items to the next reviewer in the approval queue, and send the rejected items back to the submitter to rework.
"Our new user interface empowers approvers to easily configure the system, and consume the information they need to confidently approve spending," Vergantino said.
Today, ExpenseWatch also introduced:

About ExpenseWatch (http://www.ExpenseWatch.com)
ExpenseWatch automates manual, time consuming paper-based processes, for visibility and control over organizational spending, empowering customers to spend with confidence. Modules for expense reporting, purchasing and payable invoices resolve specific spending issues, or can be combined to provide a comprehensive spend management suite. The company was founded in 2000, released the first version of its spend management service in 2003 and currently manages almost $3 Billion in annual spend transactions on behalf of its customers. The company is privately held with headquarters in Plymouth Meeting, PA, a suburb of Philadelphia.