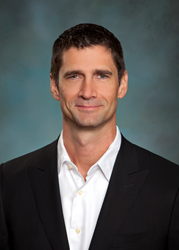 Behind every successful leader is a great team, and this is really a testament to our employees who deliver the best service each and every day
Phoenix (PRWEB) May 02, 2014
EY has chosen Inilex CEO Michael Maledon as a semifinalist for its prestigious Entrepreneur of the Year 2014 Awards in the Mountain Desert Region. The award program recognizes some of the best and brightest entrepreneurs who demonstrate excellence and extraordinary success in such areas as innovation, financial performance and personal commitment to their businesses and communities.
Maledon was selected as a semifinalist from a sizeable pool of nominees by a panel of independent judges. Award winners will be announced at a special gala event in Denver on June 26.
"It's a personal honor to be recognized by such an esteemed organization, but behind every successful leader is a great team, and this is really a testament to our employees who deliver the best service each and every day," said Maledon. "Our uncompromising dedication to our clients is fueling our growth, and we will continue to innovate and develop solutions that meet their needs."
An accomplished entrepreneur, Maledon has been instrumental in increasing Inilex's revenues year over year, as well as building out its line of intelligent telemetry solutions, tapping into new markets and forging new industry partnerships. The company has more than doubled in size under his oversight to become one of the most trusted brands in automotive telematics.
Now in its 28th year, the EY program has expanded to recognize business leaders in more than 150 cities and in more than 60 countries worldwide. Regional award winners are eligible for consideration for the EY Entrepreneur of the Year national program
About Inilex
Headquartered in Phoenix, Inilex® is an Inc. 500|5000 company and the industry-leading provider of intelligent telemetry solutions. It combines the power of the Global Positioning System (GPS) with the flexibility of a best-in-class wireless messaging system to develop telemetry solutions for businesses and consumers alike. Inilex is online at http://www.inilex.com. The company was named one of America's Most Promising Companies by Forbes in 2013 and 2014, a Deloitte Technology Fast 500 company, and its technology has won numerous awards including the Connected World 100 for four consecutive years.
###