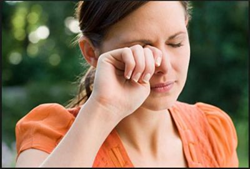 The "Everyday Eye Care Tips For Computer Users At Home And Office" report penned by Dominich Anderson provides people with tips on how to improve the eye health naturally.
Seattle, Wa (PRWEB) May 14, 2014
Everyday Eye Care Tips For Computer Users At Home And Office, a new report created by Dominich Anderson on the site Vkool.com, uncovers to readers natural and safe ways to protect their eyes. At the beginning of this report, people will discover some simple and easy tips to prevent eye problems when using a computer such as:

Let people's eyes have a break.
Move eyes regularly.
Blink people's eyes to make tears secrete, keep the eyes wet.
Breathe regularly.
Put the computer on a low table so people's eyes look down when they work.
Adjust people's screen distance. The distance between their eyes and the screen should be from 55 to 70 cm and 11 to 20 cm lower than their eyesight.
Have appropriate light.
Limit contact lens wear.
Eat food for sight (DHA). Some kinds of sea fish contain DHA that can be good for preventing eye injury and cataract. The best sources of DHA include sardines, salmon, trout, herring and arctic char.
Eat seeds: seeds contain antioxidants that can help reduce eyes degeneration and preserve or improve eyesight.
Eat vegetables such as carrots, limes and green vegetables.
Get more vitamin A from fruits and vegetables: vitamin A helps improve eye health.
Next, Dominich Anderson reveals to readers some amazing eye care tips for computer users including:
Get a comprehensive eye exam.
Set people's computer to display black characters on a white background.
Keep the screen brightness the same or brighter than the brightness of other objects in the room.
Use shades, drapes, or blinds to control window lighting and glare.
Add fruits and vegetables that contain vitamin A into daily diet such as mango, tomatoes, watermelon, sweet potato, carrots, and pumpkin.
Eat cereals, fish and eggs.
Drinking plenty of water to reduce eyes drying.
Exercise eyes regularly.
Consider computer eyewear.
Modify people's workstation.
Use tea bags.
Incorporate vitamins C and E on a daily basis.
Eat citrus fruits, tomatoes, green leafy veggies, poultry, spinach, and dairy products.
Wear antiglare glasses while driving or at work.
Use re-wetting eye drops.
Huy Pham from the site Vkool.com says, "Everyday Eye Care Tips For Computer Users At Home And Office is a good report that reveals to readers simple and easy tips to improve their eye health naturally and quickly."
If people want to get more detailed information from the "Everyday Eye Care Tips For Computer Users At Home And Office" article, they should visit the website: http://vkool.com/eye-care-tips/.
____________________
About Dominich Anderson: Dominich Anderson is an editor of the website Vkool.com. In this website, Dominich Anderson provides people with a collection of articles on tips to prevent eye problems.