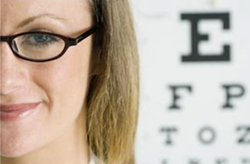 Our office is constantly trying to make it easier for patients to interact with us
New York, NY (PRWEB) July 31, 2013
Dr. Victoria Zupa of Optometric Eye Services, LLC is pleased to announce the launch of their new website, http://www.EyeDoctorChelseaNYC.com. Dr. Zupa has teamed up with an SEO & web design company, L4 Group, LLC, to create this custom website keeping the needs of the patients in the limelight. The site is designed for regular desktop browsing as well as for mobile access.
The new site is designed to give Dr. Zupa's patients access to the information that they need. It is also built to enable patients to book appointments online, providing easy access to schedule eye exams for all of the optometrists in this Chelsea NYC office. The website is also designed to enable patients to learn about the various eye care services that are offered at this eye doctor's office.
Dr. Zupa stated, "The new website is yet another example why people in Manhattan, New York choose our optometrists for all their eye health care needs. Our office is constantly trying to make it easier for patients to interact with us, learn about our services, read the background of our eye doctors and book appointments in the most convenient manner."
Zupa continues, "Optometric Eye Services is a leading eye care facility located in Chelsea, NY and staffed with optometrists and eye care specialists capable of providing comprehensive eye exams for adults and children, care for diseases of the retina including diabetes, care for age related macular degeneration and diagnosis and treatment of glaucoma. I'm proud to be able to enhance our online presence to match the high level of patient care that we provide."
Dr. Zupa has been a practicing optometrist for over 20 years and her years of experience include the diagnosis and management of ocular disease as well as urgent and primary care optometry. She participates in various community outreach programs including The Gift Of Sight.