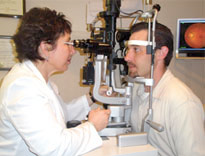 San Carlos, CA (PRWEB) April 11, 2014
Each year, thousands of people are blinded by sports-related eye injuries. In support of Sports Eye Safety Month this April, Weil Eye Care reminds coaches, parents and athletes to make sure to use proper eye protection while taking part in athletic activities. The Optical Boutique at Weil Eye Care carries a large selection of sports eyewear and our Optician does an excellent job in fitting the right protective eyewear for our patients and customers. Service in the optical boutique does not require an appointment.
Eye injuries resulting from athletic activities range from the relatively minor corneal abrasions (scratches on the surface of the eye) to the more serious, potentially blinding injuries, such as an orbital fracture (bones around the eye are broken) and detached retina (when the light sensitive part at the back of the eye is pulled away). Fortunately, 90 percent of eye injuries are preventable by wearing protective eyewear.
Eye Smart®, the American Academy of Ophthalmology's public education program, provides the following sight-saving tips about sports-related eye protection:

Youth who play sports should wear appropriate eye protection, such as polycarbonate lenses or masks that meet the requirements of the American Society of Testing Materials (ASTM) - even if the league does not officially require it.
People who wear contacts or glasses should also wear appropriate protective eyewear, as contacts offer no protection and glasses are not sufficient protection since lenses may shatter when hit by a projectile.
To preserve the vision they have left, all functionally one-eyed athletes – those with one normal eye and the other eye with less than 20/40 vision, even when corrected with glasses or contacts, should wear appropriate eye protection for all sports.
Functionally one-eyed athletes and those who have had an eye injury or surgery should not participate in boxing or full-contact martial arts because of the high risk of additional serious injury that could lead to blindness.
For sports in which a facemask or helmet with eye protector or shield must be worn, such as football and lacrosse, it is strongly recommended that functionally one-eyed athletes also wear sports goggles that conform to the requirements of ASTM F803.
Sports eye protection should be replaced when damaged or yellowed with age, as they may have become weakened and are no longer protective.
Learn more about how to protect eyes while enjoying athletic activities by visiting http://www.geteyesmart.org/.
About the practice:
Weil Eye Care Medical Center recognizes that every patient has different needs and takes pride in delivering caring, professional and courteous service to each person who walks through the door. Whether it is an adult, adolescent or child, their knowledgeable eye doctor and staff are committed to helping them achieve their best vision and eye care.
Weil Eye Care Medical Center provides a comfortable and relaxing reception area, conveniently located adjacent to the Center's Optical Boutique. Dr. Weil specializes in medical eye care as well as facial aesthetics, including Botox and facial-filler injections. Dr. Weil and her staff speak both English and Spanish and have a highly-experienced optician to help with all glasses needs.
Their services include comprehensive eye evaluations for adults and children, diagnosis and treatment of eye diseases, prescription and fitting of glasses and contact lenses to optimize vision, enhance appearance, eliminate eye strain and meet a patient's needs for their activities. For more information, please visit their website at http://www.weileyecare.com.