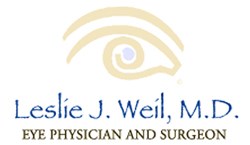 San Carlos, CA (PRWEB) October 31, 2013
Weil Eye Care wants to encourage safety and accident prevention during October, Eye Injury Prevention Month.
Dr. Weil has seen many accidents involving eyes, including a bungee cord causing blindness, which snapped back and released the metal hook into someone's eye. Dr. Weil has had to see the results and operate on patients that were injured due to air guns, BB guns, champagne corks, flying rocks, debris from motorized gardening equipment and more. Even chemical splashes from housecleaning supplies and tools have caused patients to come into the Weil Eye Care emergency care for help.
Being careful and using protective eyewear is the best advice Dr. Weil can give. Sports injuries are also common. Someone playing basketball gets an elbow or thumb in the eye or while playing baseball they get hit with a ball or bat.
Although the American Academy of Ophthalmology and the American Pediatric Association both recommend protective eye wear for all sports, generally it is not required by the teams and governing boards of the leagues. Given that a serious eye injury can impact future life choices for a child, Dr. Weil is not sure why that is.
If patients have further questions about prevention of eye injuries or would like to look at protective eyewear, please contact Weil Eye Care at 650-654-2133.
<br>About the practice:<br>Weil Eye Care Medical Center recognizes that every patient has different needs, and takes pride in delivering caring, professional and courteous service to each person who walks through the door. Whether it is an adult, adolescent or child, their knowledgeable eye doctor and staff are committed to helping them achieve their best vision and eye care.<br><br>
Weil Eye Care Medical Center provides a comfortable and relaxing reception area, conveniently located adjacent to the Center's Optical Boutique. Dr. Weil specializes in medical eye care as well as facial aesthetics including Botox and facial filler injections. Dr. Weil and her staff speak both English and Spanish and have a highly-experienced optician to help with all glasses needs.<br><br>
Their services include comprehensive eye evaluations for adults and children, diagnosis and treatment of eye diseases, prescription and fitting of glasses and contact lenses to optimize vision, enhance appearance, eliminate eye strain, and meet a patient's needs for their activities. For more information, please visit their website at http://www.weileyecare-sancarlos.com.