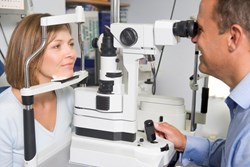 Los Angeles, Calif. (PRWEB) August 30, 2013
August is National Cataract Awareness Month, and Laser Eye Center invites everyone to schedule eye exams this month. Eye exams enable the early diagnosis of problems, allowing for generally less expensive treatment options than when conditions become more advanced.
Laser Eye Center serves most cities in Southern California, an area well known for plentiful sunshine. While many people wear sunscreen to protect their skin, sunlight is also one of the leading causes of cataracts.
In many cases, cataracts go unnoticed until they begin to affect a person's eyesight. The most common symptoms of cataracts are:

Double vision
Often needing to change prescription strengths for contacts and eyeglasses
Cloudy vision, i.e., vision that feels blurred or impaired
An increase in glare from light sources. This can also damage night vision when near light sources, such as night driving with headlights.
While cataracts are most commonly caused by aging, there are other factors that Laser Eye Center reminds patients to avoid in order to reduce their risk. These include exposure to Ultraviolet light and smoking. Laser Eye Center recommends sunglasses with UV protection to help prevent cataracts. For current smokers, while quitting may be difficult, it can help avoid many future health problems, including eye problems.
Laser Eye Center of Los Angeles and Orange County has been performing refractive surgeries since 1986. Since opening, their Los Angeles LASIK surgeons and ophthalmologists have performed over 200,000 refractive surgeries.
Because of their extensive experience and continued training, these surgeons and ophthalmologists are ready to help explain any condition, including cataracts, which a patient may have. Friendly and informative, all staff at Laser Eye Center place a high priority on ensuring the best customer-care experience possible.
Laser Eye Center uses the most advanced techniques and technology approved by the FDA. As part of their commitment to customer service eye exams cover a wide range of possible conditions, identifying many different problems that may be cured much easier when diagnosed early. Contact Laser Eye Center today to schedule eye exams online or over the phone.