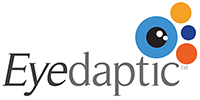 "EYE4 enables my patients to access life-changing technology to enhance their vision," explains Dr. Mitul Mehta, MD Vitreo Retinal Surgeon and Eyedaptic's Chief Medical Officer.
LAGUNA HILLS, Calif. (PRWEB) September 20, 2021
Eyedaptic, Inc., a natural vision software company, announced today a new and improved version of its eyewear solution, the EYE4 with new EyeSwitch TM technology, is now available to aid those with retina-related vision challenges, including age-related macular degeneration (AMD). The EYE4 will be on display and available for demonstration at Vision Expo West Exhibit Hall, at the Sands Expo & Convention Center in Las Vegas, from September 23rd to 25th (Vispero Booth #F12037).
Because low vision impacts millions of Americans each day, specialists are eager to find a viable solution to address this unmet and growing need, that is robbing millions of Americans of their independence. By wearing EYE4 glasses, patients can lead fuller, more independent lives and perform daily tasks such as shopping for items on a grocery list, using a computer or reading. This is further supported by Eyedaptic's clinical research that demonstrated a 5X ability to perform daily activities with their smart glasses.
Eyedaptic is the developer of a game-changing eyewear, designed by retina specialists and low vision optometrists who are desperate for better ways to treat the millions of Americans impacted by low vision and AMD. Eyedaptic uses advanced image processing technology alongside autonomous algorithms, all with a simple user interface driven by modern cellular phone technology, which enables an impactful solution for the visually impaired. Furthermore, the all new EYE4's 2-in-1 functionality operates both as a wearable visual aid as well as a hand-held magnifier.
"EYE4 enables my patients to access life-changing technology to enhance their vision. This simple and unique pair of smart glasses contains adaptive proprietary software so one visual aid covers a broad range of uses. Because it is lightweight and very comfortable a user can take it anywhere and stay independent," explains Dr. Mitul Mehta, MD Vitreo Retinal Surgeon and Eyedaptic's Chief Medical Officer.
The EYE4 device is using the most advanced technology and is the lightest and most comfortable wearable visual aid on the market. It displays a wide field of view and higher resolution displays for even better retina coverage and improved visual acuity. The glasses, powered by a tethered cell phone, offer all the processing power as well as access to two high-resolution cameras for superior image quality. All the advanced features of previous Eyedaptic products are included such as a common simple graphical user interface, advanced image stabilization and adaptive features for greater personalization. By expanding its customer reach through key optometry practices Eyedaptic can broaden EYE4's accessibility to the low vision community.
"EYE4 incorporates the most powerful and simple vision technology for the best user experience through unique image processing, comfort, and hands-free convenience. Designed for a wide variety of use cases this state-of-the-art eyewear, in a sleek glasses format all at a market-leading price of $1,999, is truly life changing for the user," says Jay Cormier, Founder and CEO of Eyedaptic.
About Eyedaptic
Eyedaptic is a privately held company that develops visual aid software, enabled by augmented reality hardware, for macular degeneration and other retinal diseases. The proprietary Simulated Natural Vision software goes beyond magnification, and adapts for the low vision user, to revitalize their quality of life. For more information, please contact info@eyedaptic.com.