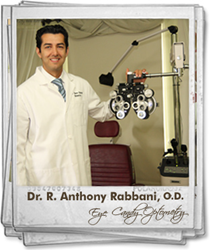 Los Angeles, CA (PRWEB) July 07, 2014
Los Angeles eye doctor, Dr. Ramin Rabbani, is now offering comprehensive optical exams. Routine eye exams can be one of the best ways to preserve eye health and vision. When eye problems are diagnosed early, treatment can often delay or reduce the risk of the condition deteriorating and further damaging vision. Visit his Los Angeles eye clinic, Eye Candy Optometry and Eyewear, for more information.
About Dr. Ramin Rabbani OD, Expert in Optical Exam Los Angeles
Dr. Ramin Rabbani is a native of Southern California and attended UCLA before completing his doctorate degree at the New England College of Optometry in Boston. He completed his postgraduate training at the world-renowned Omni Eye Services, where he completed advanced training in the treatment and management of cataracts, glaucoma, macular degeneration and other serious eye problems. Dr. Rabbani has worked with vulnerable groups at a community health center and has helped manage refractive eye surgery patients. He is an active volunteer and is involved with the Gift of Sight program, which provides eye care services to underprivileged men, women and children in the Los Angeles region. Dr. Rabbani offers comprehensive eye care as well as eyeglasses and sunglasses repair in Los Angeles.
Eye exams can include several different aspects. Dr. Rabbani reviews a patient's personal and family medical and vision history and evaluate his or her vision using an eye chart. This can help identify farsightedness, nearsightedness, astigmatism, presbyopia or other common vision problems. The health of the eyes will be tested with an eye pressure test, which is used to identify glaucoma and an examination of the optic nerve and internal eye structures, which can identify cataracts or macular degeneration.
Patients with vision problems will be provided with a prescription. Contact lens exams can include different tests and a fitting to ensure comfort and effectiveness. Patients may be able to choose from a variety of lenses and frames to meet their needs. Dr. Rabbani's office offers exclusive frames that include eco-friendly, handmade and vintage designs. Medicare and most vision insurance plans cover routine eye exams. Low-risk patients are encouraged to have one routine eye exam every two years. Children, adults with vision problems and those who are over 61 are generally advised to have eye exams annually but may need more frequent exams.