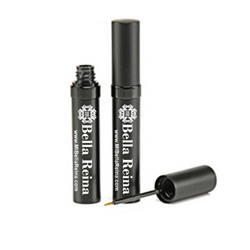 Works as a Multi-Use- It repairs the damage while helping with the length.
Delray Beach, FL (PRWEB) July 28, 2014
Bella Reina has developed through new technology an Eyelash and Eyebrow Enhancing Serum that lengthens, conditions and strengthens lashes and brows. The serum was designed to be paraben-free, prostaglandin-free and prescription-free. This is the latest in a series of eyelash and eyebrow products to be introduced by the young company based in Delray Beach, FL.
The 2-in-1 serum was created after Bella Reina's estheticians saw thousands of clients with damage from lash extensions and botched eyebrow waxing. The serum, while packed with peptides and vitamins, does double duty as a lash repair serum for anyone who has experienced severe lash damage or even lash loss.
"It was extremely important to us that the product work as a multi-use product. We wanted it to repair the damage and help with the length of the lashes and brows,", said company VP of Marketing & Sales, Kinsey Harris.
The product is currently only available online at Mi Bella Reina or at the spa in Delray Beach, FL. For more information on the Bella Reina Eyelash and Eyebrow Enhancing Serum, email info(at)mibellareina(dot)com.
About Bella Reina: Bella Reina is the leading spa provider and definitive authority on luxury beauty, wellness, and spa treatments. Bella Reina was created by Nancy Reagan, a nationally recognized expert in beauty, nutrition, weight loss, skin care, and makeup. Nancy and Bella Reina Spa have been featured in the New York Times, WebMD, Les Nouvelles Esthetique & Spa, and PC Advisor for spa industry expertise and business success. To learn more about how Bella Reina is constantly innovating both spa services, spa memberships and shopping, please visit BellaReinaSpa.com or MiBellaReina.com.