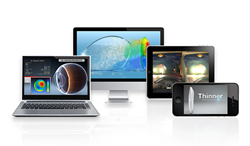 Doctors can save time explaining various eye conditions and staff can increase premium product sales.
Baltimore, MD (PRWEB) June 26, 2014
Are you tired of wasting time trying to find the best video to easily describe anything eye related to your patients? Walman Optical is pleased to announce its partnership Eyemaginations which has made educating patients on everything about eye health and eyewear technology even easier.
Eyemaginations has created ECHO, an all-in-one, cloud-based solution that allows ECPs to educate their patients even beyond the four walls of a practice and reach them everywhere they are thinking about their eye health: before the appointment, in the waiting room, during the appointment and at home. With ECHO, ECPs can share important eye health information via email or social media to educate their patients and community anytime, anywhere. ECPs can save time explaining various conditions of the eye and can help their staff increase premium product sales with ECHO's vast media library.
Did you know that 72% of patients seek health information online? With ECHO, ECPs can separate their practice from others in the area by adding media to their website, so people searching for health information can find their practice fast and trust them as a leading source of quality information.
With the partnership between Walman Optical and Eyemaginations, ECPs have the opportunity earn rebates on their subscription billing through a Walman Optical Lab. Talk with a Walman account manager today to get started or click here to sign up for a demonstration of ECHO.
About Eyemaginations
Eyemaginations, Inc. is a healthcare media company focused on solutions that support professionals, patients and corporations in communicating and understanding complex topics. The company's in-depth experience with animation, design and software has enabled Eyemaginations to create integrated systems that provide clear and concise education solutions. Eyemaginations has a comprehensive solution for eyecare, ENT, audiology, and facial aesthetics. For more information, visit Eyemaginations online at http://www.eyemaginations.com.
About Walman Optical
Walman Optical provides independent eyecare practices with premium ophthalmic products and services. The company manufactures in its labs, and backs its wide range of products with consistent reliability and the most complete warranties in the industry, including a patient satisfaction guarantee. Its products, marketing, and practice growth programs are focused solely on the success of the independent eyecare professional.