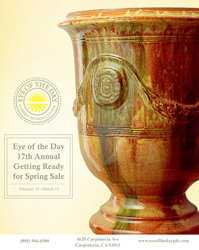 Our sale started 17 years ago as a way to liquidate stock to make room for the products we wanted to offer our customers. It has become Eye of the Day's biggest sale of the year and because of its proven success, we continue to do it year after year.
Carpinteria, CA (PRWEB) February 03, 2015
Eye of the Day Garden Design Center is getting ready for its annual storewide Getting Ready for Spring Sale. From mid-February through mid-March Eye of the Day puts EVERYTHING on sale (except consigned items). Fountains, pottery, birdbaths, garden furniture, statuary and more will be available from 10% up to 30% off their original price. Eye of the Day offers a great variety of Italian terracotta, Greek terracotta, French Anduze, American made concrete, and the coveted Gladding McBean, and that's not all! There are additional discounts up to 70% on one of a kind items, closeouts, discontinued items, seconds and odd lots. The Getting Ready for Spring Sale is the best time to stock up on our authentic, quality products for your home and business.
More information about the sale is available on Eye of the Day's website at http://www.eyeofthedaygdc.com where interested customers can sign up for the online newsletter and stay informed of the latest promotions.
Visit Eye of the Day's extensive retail showroom located at 4620 Carpinteria Avenue in Carpinteria, CA, Monday through Saturday from 10 am to 5 pm, or call 805 566-6500 for more specific information.
About Eye of the Day Garden Design Center
Eye of the Day Garden Design Center is a retail showroom featuring more than an acre of high quality, authentic garden products including frost-resistant Italian terracotta pottery, French Anduze pottery, and American-made concrete garden décor. Eye of the Day is a leading importer and distributor of fine European garden pottery and caters to private consumers as well as landscape, design and architecture professionals from around the world. To see what Eye of the Day can offer you, visit http://www.eyeofthedaygdc.com