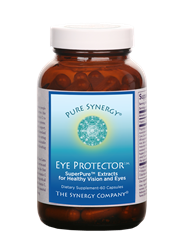 Eye Protector™ was created to fill a serious void in the market for a truly pure, highly sophisticated formula that could genuinely support healthy eyes and vision.
Moab, Utah (PRWEB) February 24, 2015
Eye Protector™ could not have come at a better time.
More adults have eye disease than ever before. This according to the 2012 report titled "Vision Problems in the U.S" released by Prevent Blindness America and the National Eye Institute. Eye conditions such as age-related macular degeneration, cataracts, and glaucoma are all on the rise, with the biggest jump in diabetic retinopathy (89% increase in prevalence since 2000).
In addition are the growing number of people with eyestrain, irritated eyes, eye discomfort, glare problems, and eye fatigue—much of which is likely the result of living in a modernized world in which "screen-time" is at an all-time high, and only going higher.
In January of 2015, The Synergy Company™, a privately owned nutritional supplement company, officially launched Eye Protector™ after 5+ years of research and development.
Although Eye Protector™ does not claim to treat any of these conditions, it can support and protect the overall health of the eye. It contains over 15 plant-based extracts and concentrates, many of which are certified organic and all of which are exclusively made with what The Synergy Company™ calls their "SuperPure™ Processing."
According to Mitchell May, founder of The Synergy Company™ and master formulator, Eye Protector™ was created to fill a serious void in the market for a truly pure, highly sophisticated formula that could genuinely support healthy eyes and vision.
May said, "There are certain ingredients that are well-known for the eyes, like lutein, but there are many other rare and lesser known natural ingredients derived from fruits, flowers and vegetables that also have great research and potential to support eye health. Like Crocins (from Saffron), Anthocyanins (from Bilberries), and Lycopene (from Tomato). Our goal, which took several years, was to source and develop the special processing for all of these ingredients under our exacting standards for purity and quality. This was not an easy task."
With the tagline "Don't Opt For Only Partial Protection When Your Eyes Deserve it All," Eye Protector™ is meant to cover all the bases for healthy eyes. It contains pure, standardized, plant-derived ingredients and active compounds in well-researched quantities and forms that have the potential to positively support healthy eyes.
"The reaction to Eye Protector™ has been far better than we expected," said Daniel Naistadt, Synergy's Chief Marketing Officer at The Synergy Company™. "Our January launch sales numbers quickly exceeded our expectations. It affirms that customers have been looking for a comprehensive eye supplement like this since there is truly nothing else like it out there."
About The Synergy Company™
The Synergy Company™ is founded on the belief that good faith, integrity and environmental responsibility are eminently compatible with good business. Located in Moab, Utah, they are privately owned and operated, and over the last 20+ years have built several sustainable, high-tech, award-winning facilities where they have complete control over every step in the unique manufacturing of their world renowned formulas—from seed to finished product. Today, their supplements are sold internationally to Asia, Africa, Europe and the Americas. For more information, visit http://www.thesynergycompany.com.