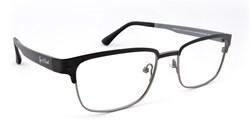 Patients...will find [a perfect fit] within our collections. Plus, Wear & Share allows the optical and the patient to give the gift of sight to someone in need...so it's a win-win! --Amy Schneider, VP of Product Development
Sharon, Pennsylvania (PRWEB) January 27, 2014
Eyes of Faith Optical fits all shapes and sizes in its round-up of Fall and Winter eyewear releases. The five frames complement current styles in all three Eyes of Faith collections and fulfill size, trend, and lifestyle niches that drive patients to shop at independent opticals. All four adult styles feature Eyes of Faith® or Not of This World® branding, the giveback-indicative Wear & Share logo, and biblical scripture inside each temple. The new VeggieTales® style for young girls features the beloved brand phrase, "God made you special!" inside its temple. All frames are available for distribution to independent eyecare professionals throughout the US, accompanied by branded cleaning cloths and eco-friendly cases that ship and store flat, or kid-friendly VeggieTales-branded cases and cleaning cloths.
"Our newest releases are representative of the trends and sizes that lead people to visit independent opticals," said Amy Schneider, Co-founder and Vice President of Product Development. "Whether they are looking for a sophisticated rimless style, a larger-sized, lightweight frame, or the hottest color combinations, patients look to their eye doctor's office for a perfect fit, and they will find it within our collections. Plus, Wear & Share allows the optical and the patient to give the gift of sight to someone in need with every purchase, so it's a win-win!"
For men, Eyes of Faith presents styles 1019, 1026, and Not of This World "Shield." Eyes of Faith Style 1019 is a masculine interpretation of Eyes of Faith's signature "stained glass" concept featuring an embedded cross and a rimless, drill-mount lens (especially bi-focal and progressive friendly). The Galatians 2:20 scripture "I live by faith in the Son of God" is printed inside its temple. Style 1026 is a brow bar frame with vintage flair, a progressive-friendly lens size, and ultra-comfortable, scalloped TR-90 temples. This frame boasts the distinctive combination of larger size and remarkable light weight. Patients can put on their "armor" every day with the Psalm 18:32 scripture "It is God who arms me with strength..." printed inside this style's temple. Finally, an additional, in-demand, larger-sized acetate frame completes the men's offerings with Not of This World "Shield," a big and bold shape with sleek, beveled temples that showcase a courageous NOTW shield logo. The Psalm 28:7 scripture "The Lord is my strength and my shield" is printed inside its temple.
For ladies, Eyes of Faith offers style 1025 and Not of This World "Vine." Eyes of Faith's modern cat-eye shape gets a makeover with style 1025. Fashion-forward translucent fronts and luminous, shimmer-striped temples make this a fun, youthful style for females of multiple generations with the Psalm 40:4 scripture "Blessed is the one who trusts in the Lord" printed inside its temple. This style is progressive-friendly, and also a great fit for reading glasses or sun readers. Not of This World "Vine" is a softly-rounded, feminine front shape with just a hint of an uplifting cat-eye. Vine's great-fitting keyhole bridge adds the perfect touch of trendiness, and luxurious, layered acetate hues accommodate every fashionista's wardrobe. Each temple features a gracefully-swirled, metallic logo plaque on the outside and a signature NOTW heart logo on the inside of each temple tip. This style's name is inspired by the scripture "I am the true vine..." (John 15:1), which is printed inside its temple.
Young girls will love the adorable hearts and flowers acetate temples of VeggieTales style 3012, which are paired with beautifully-wearable ballet pink, warm gold, and soft berry metal fronts. This frame's high-quality finishing touches include exceptional adjustability, comfortable spring hinges, rich metal VeggieTales temple tip logo plaques, and the message "God Made You Special!" printed inside its temple.
About Eyes of Faith:
Eyes of Faith Optical was founded in 2008 by husband and wife team Jim and Amy Schneider of West Middlesex, PA, as a way to contribute to the global mission of serving people in need and fill a void within the optical industry for eyewear created to fit the style and values of faith-appreciative shoppers. The Eyes of Faith family of brands includes the Eyes of Faith® brand, as well as licensed brands VeggieTales®, Not of This World®, and Women of Faith®, all of which are distributed to independent eye care professionals in the continental United States, Puerto Rico, Canada, and Dominica. Through Eyes of Faith's Wear & Share® program, a pair of glasses, sunglasses, or readers are donated to faith-based missions for every purchase. Consumers can also Wear & Share® with products like John 3:16 Eye Chart Tees and Women of Faith licensed reading glasses on the "Eyes of Faith Storehouse" at eofshop.com where reciprocal t-shirts and readers are donated to missions for each purchase. Eyes of Faith's vision is to encourage people to "wear" their products, and "share" their faith through donations that are delivered around the world via faith-based missions on behalf of each purchase.