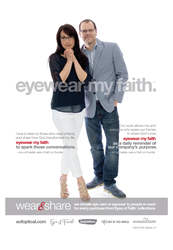 We hope...these campaign materials encourage a dialogue for uplifting others through our eyewear. - Mandy Stoffel, Creative and Brand Management Director
Sharon, Pennsylvania (PRWEB) July 30, 2014
Jim and Amy Schneider launched Eyes of Faith in 2008 to offer eyewear that exemplifies faith, both in style and in action. Since then, the company's collection of faith-inspired ophthalmic frames and sunglasses have helped bring sight to more than 20,000 people in need through their Wear & Share® promise to donate eye care or eyewear for every purchase. To grow awareness of their ongoing mission via social media and within opticals across America, Eyes of Faith has launched their Eyewear My Faith™ marketing campaign that communicates the difference a purchase makes for the Wear & Share recipient and for the person who wears Eyes of Faith eyewear.
"So many people have shared moving stories about the meaning of our eyewear, both in terms of the give-back and their experience of wearing them every day," said Mandy Stoffel, Creative and Brand Management Director. "We hope the personal testimonies involved in these campaign materials encourage a dialogue for uplifting others through our eyewear. A connection to faith is unique to each person, and sharing what faith means to you can inspire hope."
Eyes of Faith unveiled Eyewear My Faith to both the optical arena at the Vision Source North American Meeting, and to a general consumer audience at WaterFire, a regional community celebration near the Eyes of Faith headquarters that highlights arts, culture, and local businesses. The company displayed its new point-of-purchase materials for authorized retailers including posters, counter cards, gift with purchase bookmarks, and Eyewear My Faith t-shirts, which are available at the Eyes of Faith e-commerce website eofshop.com. WaterFire attendees sported Eyewear My Faith temporary tattoos while tossing beach balls emblazoned with the tagline during the featured inspirational concerts.
"This campaign could be a game-changing conduit of awareness for Eyes of Faith," said Glenn Ellisor, Executive Chairman of Vision Source, North America's largest network of private practice optometrists. "The brand is widely recognized and supported by optical practices already, but this gives every patient the opportunity to discover Eyes of Faith's purpose, even before a doctor or staff member introduces the product. Patients with a connection to faith visit opticals every day, and Eyewear My Faith will immediately engage those patients."
About Eyes of Faith:
Eyes of Faith Optical was founded by husband and wife team Jim and Amy Schneider to offer designer eyewear that reflects the spirit of faith and makes a global difference. Eyes of Faith's Wear & Share® promise transforms a portion of every purchase into eye care or eyewear for someone in need, which is delivered during optical missions domestically and abroad. The company's vision for Wear & Share is to enable people to wear their faith and share the gift of sight, and the program has already generated funding to reach more than 20,000 lives around the world.
The Eyes of Faith family of brands includes its own Eyes of Faith® collection, as well as licensed brands VeggieTales®, Not of This World®, and Women of Faith®, all of which are distributed to independent eye care professionals throughout the continental United States, Puerto Rico, Canada, and Dominica. Eyes of Faith's fashion-forward styles are designed for all ages and incorporate inspiring design elements such as a cross on the outside or scripture on the inside. All frames come with branded cases and cleaning cloths, and a bookmark as a reminder that "your style CAN make a difference." In addition to the Wear & Share donation to someone in need, Eyes of Faith's new Eyewear My Faith™ campaign encourages wearers to uplift others by sharing why they wear their faith on Facebook.
Consumers can also Wear & Share® with signature Eyewear My Faith™ t-shirts, John 3:16 Eye Chart t-shirts, and Women of Faith® licensed reading glasses through the "Eyes of Faith Storehouse" at eofshop.com, where reciprocal t-shirts and readers are donated to missions for each purchase.
To view all Eyes of Faith frames online, visit http://www.eofoptical.com/collection.
For more information about Eyes of Faith Optical or Wear & Share visit eofoptical.com.