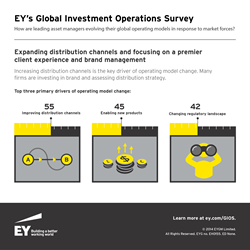 New York, NY (PRWEB) April 15, 2014
Changes to the asset management operating model are now being driven by the expansion of distribution channels and the development of new products, according to EY's new global asset management investment operations survey. The survey, Managing Complexity and Change in a New Landscape, finds that chief operating officers (COOs) and heads of investment operations increasingly are aiming to capture new inflows with direct-to-consumer distribution strategies, significant investment in marketing and brand management, and improved data management.
"The biggest driver of change is no longer cost and regulation, but has shifted to the expansion of distribution channels and supporting the development of new products," said Alex Birkin, EY Global Wealth and Asset Management Advisory Leader. "While there is still a large change agenda driven by regulatory compliance and cost management, managers are now more focused on internationalizing their distribution channels and investing further in brand management."
Improving distribution channels was named as the primary driver of operating model change for 55% of managers surveyed, followed by enabling new products (45%), changing regulation (42%) and targeting new markets (33%). EY surveyed 40 COOs and head of investment operations across the Americas and Europe.
Watch EY's video to learn more about seven key ways asset managers are transforming their operating models.
How are asset managers meeting market challenges?
US managers are in a prime position for growth. In Europe, 68% of managers said operating model change is still primarily driven by regulatory compliance, while just 19% of US managers cited the changing regulatory landscape. With fewer complex regulations, US managers are in a better position to evolve their operating model and focus on growth, including new products and distribution targeted at Europe.
Leading managers are focusing on efficiency through location strategy. Many managers are looking at their global footprint and investigating the opportunity to move to a center of excellence approach and/or a shared service center model. Just 17% of managers said their target location strategy involved limited or no nearshoring or offshoring.
Biggest may not be best. Medium-size managers appear to have globalized their operating model more than the largest managers, primarily because they have less complexity of product and geographical footprint and therefore can leverage their global model for efficiency.
Technology no longer creates a competitive advantage, but data management does. Technology continues to be a challenge for managers - the volume of data and the multitude of applications across products and geographies needs to be carefully managed, especially in larger firms. The overriding data management challenge for firms is quality and access of data (75% ranked this as a top challenge).
Read the full report to learn more about the seven ways asset management firms are transforming their operating model – or view our accompanying infographic and video.
About EY's Global Wealth & Asset Management Center
The global wealth and asset management sector has rebounded from the global financial crisis to face a rapidly evolving regulatory environment and changing client base. Organizations are keenly focused on efficiently adapting to change, managing complex risks and growth in an increasingly crowded field. EY's Global Wealth & Asset Management Center brings together a worldwide team of professionals to help you succeed — a team with deep experience in providing assurance, tax, transaction and advisory services. The Center works to anticipate market trends, identify their implications and develop points of view on relevant sector issues. Working together, we can help you meet your goals and compete more effectively.
About EY
EY is a global leader in assurance, tax, transaction and advisory services. The insights and quality services we deliver help build trust and confidence in the capital markets and in economies the world over. We develop outstanding leaders who team to deliver on our promises to all of our stakeholders. In so doing, we play a critical role in building a better working world for our people, for our clients and for our communities.
EY refers to the global organization, and may refer to one or more, of the member firms of Ernst & Young Global Limited, each of which is a separate legal entity. Ernst & Young Global Limited, a UK company limited by guarantee, does not provide services to clients. For more information about our organization, please visit ey.com.
This news release has been issued by EYGM Limited, a member of the global EY organization that also does not provide any services to clients.