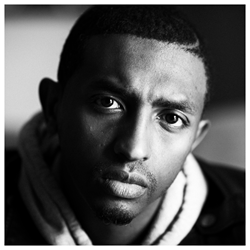 Tech is another word for freedom to me.
Oklahoma City, OK (PRWEB) January 27, 2015
A Hip-Hop Artist who used his passion for technology to lift himself out of poverty and avoid deportation is releasing his latest single.
Rising Midwest Rapper Abe is one half of hip-hop duo F14 with long-time friend Wayne Valentine. Their single "Never Know" was released this winter. The new song is a collaborative effort between F14 and the up-and-coming Kansas City rock band Black Oxygen. Abe had the bars, Valentine handled the beat and Black Oxygen's lead singer, David Lyle, sang the chorus and bridge. Lyle also added a guitar solo.
The song can be downloaded at the Apple iTunes store here, the Google Play store here and at Amazon here.
"Never Know" was recorded in Kansas City's Chapman Recording Studio. A corresponding video was shot in scenic Lake Havasu, a large reservoir on the Colorado River between California and Arizona. The video captured the captivating sights of nature and features Abe and the energetic members of Black Oxygen enjoying the majestic scenes. They endured the heat and the dust, but their smiles show how their passion for music got them through less-than-perfect conditions.
The video can be viewed online here.
"'Never Know' is a product of my passion for expression," Abe said. "Incorporating my love of words with Valentine's great beats and Black Oxygen's serious rock skills made this song really shine. I'm excited to share this and future projects with the world."
Born in Ethiopia, Abe immigrated to the U.S. in the 1990s. Due to a legal technicality, everyone in his family received a green card except for him, so he was put on deportation process for several years. During that period, he worked hard while going to college, paying for his own degree in electrical engineering. Today, he uses technology not only to support his younger brother but to help build his brand F14.
"I tell any kid from the hood who wants to be independent that the best way to be independent is through tech -- there is no better way," Abe said. "Tech is another word for freedom to me."
"Growing up poor, it was my ability to use the technology that I learned on my own time to get ahead," Abe continued.
Learn more about F14's music and view the new Never Know video at f14life.com. To reach F14 for booking and business purposes, email management(at)f14life(dot)com. Follow F14's Abe on Instagram & Twitter.