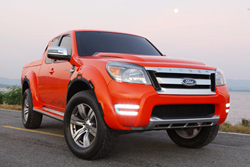 The Ford 6.2L V8 is one of the latest builds that we have added to our Internet inventory that can be explored by consumers seeking a replacement block
Baton Rouge, LA (PRWEB) August 27, 2015
The larger vehicle motors now in production at the Ford motor company currently include 16-valve motors placed into F-Series pickup trucks. The Powertrain Guys company is now able to provide F350 6.2 liter engines in used condition due to its established partnerships in the U.S. Details about this acquired inventory can be found at http://powertrainguys.com.
The blocks that are now available to purchase are the 370 CID editions installed in the 2011 and later F350 gasoline powered trucks. These E85 enabled cast iron blocks have been evaluated for operational quality prior to acquiring these units for sale. Super Duty truck owners or vehicle mechanics can benefit from these preowned units.
"The Ford 6.2L V8 is one of the latest builds that we have added to our Internet inventory that can be explored by consumers seeking a replacement block," said one rep at the PowertrainGuys.com website.
The 6.2-liter builds now available can be placed into the Raptor, SVT and other F-Series trucks that accept a V8 engine block. To provide additional support after a sale is processed, the PTG company is offering a warranty program for all purchasers. These policies are provided for a two-year period.
"We have changed the warranty protection policies that we supply with gasoline powered vehicle motors to provide exceptional protection against 90 percent of parts failures," said the rep.
The Powertrain Guys have revised the company website to help consumers find products in stock faster without entering actual part numbers for motors. Consumers using the search system can switch to inputting a vehicle year to instantly explore all sellable units that are available for distribution.
About PowertrainGuys.com
The PowertrainGuys.com company has built a technologically advanced vehicle components research website for consumers to explore daily North America. The company has connections with second hand components distributors that list available inventory. The PowertrainGuys.com company showcases transmissions, engines, transfer cases and other components purchased routinely by consumers daily.