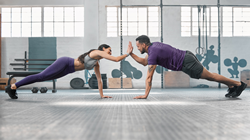 "Partnering with Uberall is a big step in our effort to support the growth of our franchisees. Now, our franchisees can spread the word about their studios more efficiently than ever before," Brian Killingsworth, F45 Training CMO
LOS ANGELES (PRWEB) May 23, 2023
F45 Training, a global fitness company, has chosen Uberall as its global solution for location marketing. Uberall CoreX, a leading local digital marketing platform, will help F45 reach its local digital marketing goals with an accurate and comprehensive, yet effortless approach to listings and reputation.
F45 Training transitioned from a competitive location marketing solution to Uberall CoreX given the platform's superior location data accuracy and central location management capabilities. In addition, the team at F45 saw Uberall as not just a vendor, but a true partner, with extensive expertise in the franchise space. That know-how is crucial to helping the 2,000+ location chain and its franchise owners and investors, including actor Mark Wahlberg, continue to meet aggressive growth goals.
One of F45's main goals is to ensure accuracy across listings, especially with rapid growth plans ahead—over the next two years, the company plans to nearly double in size. Complete and correct Google Business Profiles are key for F45, along with the ability to schedule new location openings 90 days in advance, which is possible thanks to Uberall's direct partnership with Google.
"Partnering with Uberall is a big step in our effort to support the growth of our franchisees. Now, our franchisees can spread the word about their studios more efficiently than ever before through centralized management of all location listings as well as the ability to reply to reviews, all from one platform," said Brian Killingsworth, F45 Training CMO. "We've been looking for a more robust solution for our studio listings, and we've found exactly that in Uberall."
Using Uberall's platform, F45 was able to remove 100s of duplicate listings and clean up inaccuracies. This improvement alone has had an immediate impact on the brand's visibility on platforms like Google, Apple Maps, Instagram, Facebook, Yelp, and many more. In fact, in just a month's time after the listings clean up, F45 has seen a 148% YoY increase in search impressions and a 72% YoY increase in map impressions. Meanwhile, Facebook clicks are up 144% YoY and impressions up 65% YoY. These early results are an indication of even more positive improvements to come.
"We're thrilled to be F45's franchise marketing solution of choice as they accelerate their global growth," said Florian Huebner, CEO and Founder at Uberall. "As an admirer of Mark Wahlberg, one of the investors in the F45 brand, I've been closely following the success of the company, and it's an honor to work with them. F45 is now well-equipped to achieve its growth goals and provide a seamless customer journey."
ABOUT F45
F45 Training ("F45" or the "Company") is a leading boutique fitness franchise platform operating the F45, FS8 and Vive Active brands. F45 is a high-intensity (HIIT) interval training workout that utilizes proprietary technology, including a proven fitness platform that leverages a rich content database of thousands of unique functional training movements that offers members a new workout experience each day. FS8 is a progressive new fitness concept that remixes the best elements of pilates, tone and yoga. Vive Active is an innovative, high energy fitness concept that focuses on athletic reformer pilates. F45 is committed to supporting our expanding global franchise network in the high growth boutique fitness category.
ABOUT UBERALL
Uberall helps the world's largest and most innovative brick and mortar businesses stay relevant and profitable by driving online discovery, in store visits, and repeat purchases. Its local digital marketing platform, Uberall CoreX, helps streamline and simplify the management of location data, localized campaigns, and online reputation across discovery networks like Google Business Profile, Apple Maps, Yelp, Facebook, Instagram and many more. The fully-integrated platform helps fast moving, global marketing teams ensure brand consistency across the local web, drive more transactions, and quantify impact.
Uberall, founded in 2013 and headquartered in Berlin, Germany, has more than 400 employees and services over 1,850 multi-location businesses across 170 countries.
For further information visit http://www.uberall.com | LinkedIn | YouTube | Facebook | Twitter