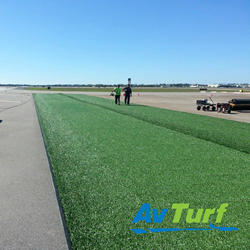 This study has shown that installing AvTurf in runway and taxiway safety areas can be an effective solution for wildlife control.
Austin, TX (PRWEB) March 24, 2016
To address the problem of burrowing gopher tortoises in Orlando Sanford's runway grass, the airport turned to AvTurf, a patented artificial turf system, as a viable long-term solution.
Gopher tortoises burrowing in close proximity to runways are a safety hazard to airport operations, and removing them had become a continuous and very expensive issue for Orlando Sanford. Between 2008 and 2014, the airport excavated over 875 burrows and removed 345 tortoises, costing nearly $400,000. And once removed, the tortoises typically came back to re-burrow.
The airport entered into an agreement with The FAA Airport Technology Research and Development Branch to conduct and fund the study, which was to measure the effectiveness of aviation turf to mitigate the presence of the burrowing tortoises.
The synthetic turf was installed on a plot around the runway's blast pad, and infilled with sand ballast. Four wildlife cameras ran continuously along the perimeter of artificial turf, which recorded photographs of any movement.
After a year of observation and data collection, no tortoise burrowing was detected in the test area according to the study published by the Federal Aviation Administration (DOT/FAA/TC-15/61).
"Animals in runway safety areas presents a serious concern for airport operations," said Daniel McSwain, general manager for AvTurf. "This study has shown that installing AvTurf in runway and taxiway safety areas can be an effective solution for wildlife control. The aviation turf backing provides a barrier to burrowing tortoises, while also removing the natural ecosystem which attracts birds and other wildlife."
WILDLIFE AND FEDERAL REGULATIONS
Under Federal Regulations, airports are required to maintain runway safety areas free of hazardous ruts, humps, or other surface variations. In fact, a number of other airports in the FAA Southern Region have difficulty meeting the regulations due to holes caused by burrowing of gopher tortoises. Gopher tortoises are listed as a threatened species in Florida, and mitigation efforts are heavily regulated, expensive, and time-consuming.
"We want to help airports implement long-term preventative wildlife control strategies, rather than reactive measures to capture and relocate," said McSwain. "The study at Orlando Sanford can be applied to other airports experiencing similar difficulties."
SYNTHETIC TURF SAFETY SOLUTION
In addition to wildlife control, the FAA study further investigated the durability of the artificial turf system, as well as its maneuverability, braking action and friction characteristics with vehicles.
AvTurf performed well on all test measures, under a variety of environmental conditions. When exposed to jet blast, UV, wind and rain, AvTurf did not exhibit indications of deterioration, and proved resilient to the passage of operational vehicles. Under both wet and dry conditions, the artificial turf did not exhibit detrimental reduced braking during aircraft or vehicle excursions.
The overall results demonstrated that artificial turf which meets FAA specifications is compatible with safe airport operations, is durable to passive environmental factors, resists burrowing by gopher tortoises, and is not attractive to other hazardous species.
ABOUT AVTURF
AvTurf is a patented aviation turf system manufactured by Act Global, used to improve airport operations and safety. AvTurf meets the specifications in FAA Advisory Circular 150/5370-15B, and has been identified as a material that can be used to cover large portions of airport property with multiple benefits, such as providing consistent ground cover, as well as reducing maintenance costs and attractive vegetative food sources for hazardous wildlife species. For more information visit http://www.ActGlobal.com/AvTurf.