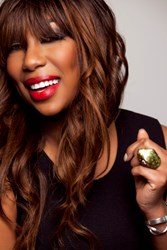 The ISSE is the largest professional shopping and educational beauty event on the West Coast," said Faatemah. "I love sharing trends with other beauty professionals -- and I love stalking beauty!
New York, NY (PRWEB) January 14, 2014
Award-winning celebrity hairstylist Faatemah has been tapped to bring her retro hair glam prowess to the International Salon and Spa Expo (ISSE), January 26-27, 2014 in Long Beach, CA. Dubbed the "Diana Ross" of the professional hair world by ISSE, Faatemah will lead two of her signature workshops, "RetroEvolution" and "Trending With Textures".
"The ISSE is the largest professional shopping and educational beauty event on the West Coast," said Faatemah. "I participate every year because I love sharing trends with other beauty professionals. When I'm not on stage, you can catch me attending a class or shopping for the newest innovations in beauty on the showroom floor. I am always stalking beauty!"
Faatemah's "RetroEvolution" demonstration will showcase classic silhouettes and styles inspired from the past with a modern twist -- including how to translate these retro styles intro bridal, special occasion, and editorial hair. "Trending With Textures" will help take away the fears many stylists have of working with multi-ethnic hair. This will help position them to gain an important skill in the midst of an ever-growing multicultural demographic.
Produced by the Professional Beauty Association, ISSE Long Beach is well-known for its pure inspiration, knowledge, and passion. The annual beauty professional event attracts nearly 400,000 beauty professionals for educational classes, live stage performances and hair competitions.
This year, the event has been amped up to a total beauty event, including nail, cosmetic and esthetic education, along with a sold-out expo floor of more than 350 top international beauty brands, including Aveda, Conair, Moroccanoil, OPI Products Inc.,Vidal Sassoon and Wella Professional.
The "RetroEvolution" demonstration takes place Sunday, January 26, 2:30 - 3:15pm on the NAHA stage; "Trending With Textures" takes place Monday, January 27, 12:00 - 1:30pm, Room 203B.
The workshops are included with admission to ISSE. Register online at http://probeauty.org/tickets/isselb.
To learn more about Faatemah, visit http://www.faatemah.com.
ABOUT FAATEMAH
Faatemah and her work have been featured in such print publications as Allure, Beauty Launchpad, Ebony and Modern Salon magazines and on national television, including FOX, ABC, NBC and WCCO. Her partial clientele list includes such celebrities as Chrisette Michele, Yigal Azrouel, Henry Duarte, Holly Robinson Peete, Nicole Miller and Claudia Jordan.
Now considered to be one the best stylists from around the world, the former Bravo Shear Genius contestant has earned international recognition as a North American Hairstyling Award (NAHA) three-time nominee and award winner for the 2009 Fashion Forward category. Faatemah currently serves as a founding member of the elite Intercoiffure America/Canada's Artistic Council and partner at Edina-based Bella Salon & Spa.
ABOUT DW WORLD MEDIA
DW World Media, LLC is a communications firm with core competencies in public relations, focused on elevating its clients' brand, marketability and reach in media, entertainment and the arts.
For more information, visit http://www.dwworldmedia.com.