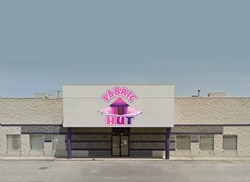 "We plan on filling every inch with new product lines, new machines, new fabrics, and new ways to get involved" - Oren, Fabric Hut Manager
Norfolk, VA (PRWEB) November 06, 2013
Fabric Hut is moving to a bigger building on Little Creek Rd. The new building is located right off the main road and is closer to interstate 64 than their current location.
Fabric Hut is currently located in the Roosevelt Gardens Shopping Center on E. Little Creek Rd. The building is small and located in a strip mall that is set behind some other buildings, which makes it hard for customers to find.
The new location is right on Little Creek and is closer to the interstate. It might seem hard to get in and out of a parking lot right off the main street in one of the busiest parts of town, but, "there is no need to worry about traffic", Doug Jarvis, Owner of Fabric Hut, says that, "[The new building] is next to a stop light, which will make coming and going easier on our customers".
The new building is also a whopping 40,000 sq ft, which is more than double the size of the building they are in now. "We plan on filling every inch with new product lines, new machines, new fabrics, and new ways to get involved", says Oren, Fabric Hut Manager.
This new building will allow Fabric Hut to offer services it hasn't had in a while, such as classes and a bridal boutique. They hope to also host craft fairs and possibly fashion shows for the local colleges, with the extra space this new location is providing.
To accommodate their switch in location, Fabric Hut will hold a sale on all items in the store.
For additional information on Fabric Hut's Move, visit http://www.fabrichut.com/moving.
About Fabric Hut:
Fabric Hut is Virginia's largest independently owned Fabric store and has been in business for over 40 years. They started out in 1967 on Princess Anne Rd and moved to Military Hwy in the 1980's. They finally moved to their current location in 1999. This may seem like a lot of moving, but each building is within 10 min of each other and the new building is no exception. The new location is just a few blocks down from their current location on E. Little Creek Rd. They hope the new Fabric Hut will be up and running at the beginning of 2014.