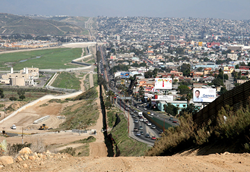 Mexico, along with Canada and other Latin American and Caribbean countries, has always been one of our most important trade partners.
Los Angeles, CA (PRWEB) June 25, 2015
A recent AP article published on June 22nd entitled "A State-By-State Look at Governors' Trade Trips Abroad" singled out California Governor Jerry Brown's trip to Mexico City as the most important trade effort made by a California politician over the past several years. This assertion is correct, notes Los Angeles based fabric manufacturer Fabric Selection Inc. "Mexico, along with Canada and other Latin American and Caribbean countries, has always been one of our most important trade partners," says Fabric Selection Inc. "We are constantly receiving and shipping orders to manufacturers and designers throughout the Americas." Fabric Selection Inc. notes that the recent trade talks have surely boosted their ability to sell wholesale fabric in Mexico and Latin America by reducing barriers and increasing communication.
"For Los Angeles businesses," explains Fabric Selection Inc., "Mexico is actually a closer neighbor in terms of shipping distance than many U.S. States." They explain that it is their wide variety of fabrics, the uniqueness of their designs, and the overall quality of the fabrics that initially attract Mexican, Canadian, Central/South American and other foreign businesses to begin doing business with them.
"It typically starts when they realize our ability to provide them with exceptional products that they are not able to source within their own country at the same quality. Then, as they confirm the quality of our fabrics, and begin to appreciate our emphasis on customer service and on-time shipping, they become loyal customers."
Fabric Selection Inc. also stresses that communication is incredibly important when doing international trade. "Often," they explain, "it takes the local knowledge that our trade partners possess to know exactly what types of fabrics the customers in that country prefer. After our international business partners convey to us exactly what the customers in their own county are looking for, then we can immediately begin the task of making the high quality chiffon fabric, lace, linen, or knit prints in Los Angeles for shipping over the border." The products listed are just some of the many fabrics available from Fabric Selection Inc. at wholesale prices.
Any business, international or domestic, that is interested in seeing exactly what Fabric Selection Inc. has to offer can call them today at 213-747-6297, or visit them online at http://www.fabricselection.com. Images of most of their patterns and fabrics are shown on their website, where buyers can browse and place items in their electronic shopping cart for later purchase.