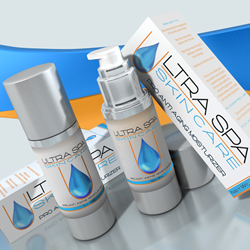 Green Valley, AZ (PRWEB) June 30, 2014
UltraSpa Skin Care is proud to announce the release of a revolutionary new anti-aging cream that has a huge number of different benefits for nearly any type of person. This is just another in a long line of high-quality product launches that have made UltraSpa one of the premiere suppliers of skin care products on the market.
UltraSpa Anti-Aging Moisturizer can dramatically reduce the appearance of fine lines and wrinkles all over a person's skin. Not only that, but it has key ingredients that help it dramatically improve the firmness of a person's skin and enhance the skin's natural defenses, both of which go a long way towards preventing further instances of damage.
UltraSpa Anti-Aging Moisturizer also hydrates and absorbs quickly, thanks to key ingredients such as glycerine and tocopheryl acetate. UltraSpa Skin Care's Anti Aging Moisturizer is a great product to use to dramatically improve the appearance of skin and provide a sexier, more radiant and more youthful appearance. It has many of the same benefits as a facelift or Botox injections, and is dramatically safer at the same time.
This product is also notable for containing no alcohol, fillers, parabens, or dyes. Only pure, 100% certified ingredients were used during its manufacture. The product was made locally in the United States of America at a facility that is registered with the U.S. Food and Drug Administration.
For more information about this or any of the other high-quality products that UltraSpa Skin Care has to offer, don't hesitate to contact the company today.