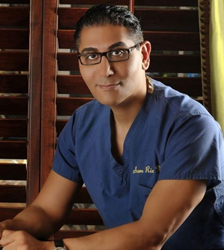 Dr. Rizk is known for his artistic approach to surgical procedures.
MANHATTAN, N.Y. (PRWEB) January 15, 2023
Dr. Sam Rizk is an internationally renowned expert in the complex field of facial plastic and reconstructive surgery based in New York. Named one of New York City's top plastic surgeons, Dr. Rizk is known for his artistic approach to surgical procedures. Dr. Rizk has developed his own techniques and published his methods for customizing procedures to the patient's facial structure and degree of aging, as opposed to one size, fits all approach. As he continues to see an influx of younger patients, including men, request facial procedures, Dr. Rizk will continue to use his newer techniques, which he believes are better tailored to them. To that end, Dr. Rizk has authored some landmark articles on facelift, rhinoplasty, and blepharoplasty surgery, describing his new ways of plastic surgery that will be applied to younger versus older patients.
Dr. Rizk is accredited with a double-board certification in facial plastic surgery and reconstructive surgery as well as head and neck surgery. He is the director of the JCAHO-accredited surgical suite, Manhattan Facial Plastic Surgery, PLLC.
Additionally, Dr. Rizk is a Realself Top Doctor where he relies on more than 20 years of combined experience to professionally answer questions from patients around the globe. Dr. Rizk has also been chosen as one of Castle Conolly's Best doctors in the NY Metro Area for facial plastic surgery. Furthermore, as a recognized expert on the latest advances he was inducted into The Rhinoplasty Society, a non-profit organization of the most respected nasal surgeons in the world.
Learn more about Dr. Sam Rizk by visiting: https://hauteliving.com/hautebeauty/member/dr-sam-rizk/
ABOUT HAUTE BEAUTY NETWORK:
Haute Beauty is affiliated with the luxury lifestyle publication Haute Living. As a section of Haute Living magazine, Haute Beauty covers the latest advancements in beauty and wellness, providing readers with expert advice on aesthetic and reconstructive treatments through its network of acclaimed doctors and beauty experts.
For more about Haute Beauty, visit https://hauteliving.com/hautebeauty/