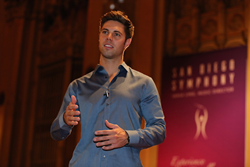 Facebook has quickly become the most powerful platform in the world for small business advertising.
San Diego, CA (PRWEB) October 13, 2014
Mark Marcelletti recently celebrated a massive anniversary – one year ago, he started his first Internet company. He went from being laid off from his secure corporate job selling medical supplies and being in debt, to owning two internet companies and producing a 5-figure per month income from his apartment.
As this is a huge milestone in his career, Marcelletti thought it would be beneficial to share his best practices for growing your business and generating leads on Facebook.
In today's economy, most small businesses have trouble consistently finding high-quality prospects. The growing complexity in the world has made it more and more difficult for businesses to embrace the rapid evolution of change.
Facebook has been able to successfully enable small businesses and entrepreneurs to reach hundreds of thousands of prospects in minutes and generate sales that same day. With massive user-bases, desirable demographics, and high user-engagement (Millennials check their phones 43 times per day), Facebook has quickly become the most powerful platform in the world for small business advertising.
Online advertising has become a critical skill to possess for today's entrepreneurs and small business owners. With it comes the power of analytics, remarketing, automation, and scalability. So without further ado, here are the best practices Mark uses to generate leads on Facebook and grow his business:
1. Research
As the blueprint of a skyscraper is essential to map its every building block, research is the foundation for a marketing campaign's structural integrity. The core focuse should be the business's value proposition, target market, competitors, and what they are doing that is working. Each one of these points gives valuable insight and direction for successfully attracting the right audience.
2. List Building
Building a list means attracting qualified prospects and getting them to voluntarily give their e-mail in exchange for a "value offer." This "value offer" is also known as a "lead magnet." 25% of leads are legitimate and should advance to sales (Source: Gleanster Research) and 50% of leads are qualified but not ready to buy (Source: Gleanster Research). This means that if a business doesn't have a way to capture the contact info from their prospects that are qualified but not ready to buy, they are losing up to 1/2 of their revenue. By building a list, businesses can lower their marketing costs and, through consistent follow-up, gain the ability to nurture leads into loyal customers. E-mail marketing has proven to be the most effective form of follow-up.
3. Landing Pages
Landing pages are the gateway to list building. Once a prospect has clicked on an ad, they are redirected to a landing page explaining the benefits of the value offer and given a call-to-action. A call-to-action makes a specific and measurable promise that grabs the reader's attention. An example off a call-to-action would be like many of the headlines from popular magazines, such as "How To Lose 15 Pounds In 90 Days." On average, landing pages have shown to increase conversion rates by 25-54% in several independent studies. With the right systems in place, businesses can split-test different landing pages and fine-tune their results.
4. Outstanding Images
In this day and age, we have become extremely visual-based consumers. It's all about images on Facebook. They have the ability to make an ad standout or get it lost in the shuffle. Best practices for outstanding images are people showing strong emotion, beautiful women, and bright colored borders. Advertisements these days must have strong headlines and copy in conjunction with an engaging visual image.
5. Compelling Ad Copy
The challenge with writing compelling ad copy is that there are many important rules and tricks to keep in mind. Not only must Facebook's rules and guidelines be followed, your businesses target audience and marketing objectives need to be considered as well. The best ad copy makes specific and measurable promises that influence prospects to take action. The goal is to get a person to exchange their hard-earned money for a product or service.
6. Ads Management
The easiest way to manage ads is through the Facebook Ads Manager. Keeping things simple and quick implementation are two of Mark's biggest focuses. While there are other platforms and tools available that have additional features, Mark is focused on quickly launching campaigns and letting the market feedback tell him what adjustments need to be made. Ads management may be the biggest distinction between traditional and digital advertising. Digital advertising gives businesses the ability to measure their digital analytics. These analytics can measure which content is most popular, the demographics of the prospects, and how much each lead costs. The benefits of knowing this data are extremely powerful because they provide the insight and accountability required to continuously improve marketing results.
With these best practices and more, your business will skyrocket to the next level. Get the complete Facebook Marketing Action Plan and begin creating additional streams of income using the power of Facebook.