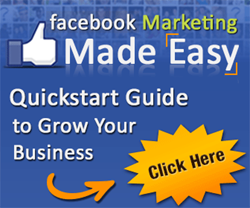 This course will discloses information that will open the readers eyes and surely be of great help to expand the business using the immense potential of online marketing.
Tres Cantos (Madrid) , Spain (PRWEB) March 30, 2015
"Internet Business How To" has published its new Guide "Facebook Marketing Made Easy"; how to increase the productivity of any offline business by applying the latest Facebook marketing techniques on the web, in just a few hours from now.
The Facebook Marketing guide will help the readers to: expand the business's sales potential; Showcase the offering in a better manner; facilitate brand recognition with less efforts; productively interact with new and existing clients or customers, and scale the business to a whole new level of success.
It will disclose information that will open the reader's eyes and surely be of great help to expand the business using the immense potential of online marketing.
There is no shortcut to success! Business people need a step by step guidance that explains the basic tools of this trade, with latest and proven Facebook marketing techniques that paves the correct way for your growth.
The guide will provide a simple, precise and point-to-point guidance that will assist its readers to beat the competition with best use of technology. With a proper Facebook marketing campaign, the businesses will be able to increase sales by expanding the geographical boundaries.
The business will also be able to convert potential leads to loyal clients. With this guide the readers will have the power to strongly and safely position their business with Facebook by applying the latest and most effective techniques!
Surely, now one would be dying with curiosity in order to achieve success with the best use of Facebook marketing and in this course the much awaited ladder to success is presented.
Introducing: Facebook Marketing Made Easy!
This brand new Facebook training system will reveal the exact steps that one really needs to care about the most in order to strongly and safely position its business on Facebook in the shortest time ever.
Here's a brief insight into the assistance that this exclusive training guide will give:
Chapter I: The History of Facebook
Chapter II: Why to use Facebook?
Chapter III: What exactly is a Facebook Page?
Chapter IV: 8 Steps to Facebook Marketing Success

Step 1: Pick a Topic, Identify a target market
Step 2: Create a Facebook Page Account, the right one
Step 3: Create a Cover Image, not breaking the rules
Step 4: Create a Profile Picture, avoiding confusion
Step 5: Create the "About" section, engaging the visitor
Step 6: Using Facebook Tabs, absolutely amazing
Step 7: Posting, getting the most out of it
Step 8: Getting Likes, quickly and safely
And, that's not all…
Cheat Sheet: This cheat sheet is a handy checklist that users can print out and use to easily take action at every step of the process. It breaks up the whole training into easy-to-follow steps so that readers can make sure they have every single piece of advice taught in the training at their fingertips. This helps them to track their progress and will help them to attain their goals.
Mind Map: This is a really helpful mind map outlining the complete training and gives an overview of every step users are going to apply in a more summary fashion.
Top Resources Report: Here the readers will have access to a complete niche research report regarding the Facebook marketing potential: Videos, Tools, Training courses, Blogs, Forums, Affiliate programs, etc.
All the efforts for streamlining the business's Facebook Marketing campaign have been taken in this comprehensive guide. The readers just need to apply these strategies to see their business grow.
Using Facebook Marketing for one's business will not be a pain-giving task anymore. The readers just need to apply these proven techniques in a specified manner.
This is a great chance to discover the best and most effective techniques businesses can use for Facebook Marketing nowadays. The only thing the readers need to do is to buy this new training and save a lot of time and frustration.
This "Facebook Marketing Made Easy" Training Guide comes with a special 30 Day, 100% Money Back Guarantee!
See more here: http://internetbusiness-howto.com/?p=18613