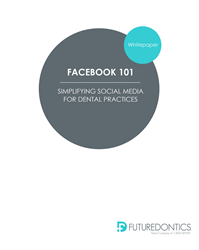 Dental practices with Facebook business pages have a leg up on their competition.
Los Angeles, CA (PRWEB) March 11, 2014
Futuredontics, the nation's leading provider of dental marketing services and parent company of 1-800-DENTIST®, is offering a free download of its popular whitepaper, "Facebook 101: Simplifying Social Media for Dental Practices."
The whitepaper was developed in response to a recent nationwide survey of dental professionals which revealed that less than 50% of dental practices are taking advantage of Facebook's patient acquisition and retention opportunities.
Now these practices can download "Facebook 101" free with no obligation, getting a blueprint for successfully engaging with patients through social media. The whitepaper details why a Facebook business page is an essential component of practice marketing, how to set up a practice profile and even what to post.
"Dental practices with Facebook business pages have a leg up on their competition," said Michael Turner, CEO of Futuredontics. "Research shows that the majority of consumers are more likely to patronize a service after Liking a Facebook page. Our whitepaper makes it easy to get up to speed on Facebook and use it like a pro to increase production and improve patient retention."
Dental professionals can download their complimentary copy of "Facebook 101" by visiting http://www.futuredontics.com/Facebook101. The free download will be available through March 31, 2014.
About Futuredontics®
Futuredontics®, parent company of 1-800-DENTIST®, is America's leading provider of dental marketing services & software. Since 1986, the company has been dedicated exclusively to dentistry, developing powerful products and resources that help dentists thrive in the evolving digital world.
The company's flagship product, 1-800-DENTIST, has delivered over 7 million new patient leads to dental practices nationwide. PatientActivator®, their patient communications and online marketing solution, increases production and boosts the practice's online presence with automated appointment confirmations and tools for social media, reviews and much more. ReputationMonitor® helps dentists protect their online reputation – monitoring hundreds of directories, reviews sites and social media platforms, and displaying them all on a single screen. WebDirector® delivers dynamic websites, mobile sites and branded social pages all for one low price. And ReActivation Pro® gets dormant patients back on the practice's schedule. Futuredontics also offers an extensive library of dental marketing resources – including in-depth whitepapers, Webinars and front desk training. With unlimited live customer support, dentistry's best marketing products and the largest dental website in North America, Futuredontics is the proven way for dental practices to grow their patient base and increase production year after year.
Contact: Betsy Roddy, Futuredontics, 310-215-6535