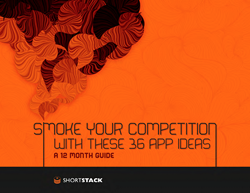 Businesses are missing out on other opportunities to engage with their fans throughout the year.
Reno, NV (PRWEB) March 19, 2014
ShortStack, a do-it-yourself app creation platform, has released an eBook highlighting 36 custom Facebook Page app ideas for businesses. The eBook provides businesses with three app ideas per month based on holidays and other seasonal events.
"We continue to see businesses who run a single promotion or giveaway and then stop running Facebook Page apps until they're ready to host another promotion," said Jim Belosic, CEO, ShortStack. "They're missing out on other opportunities to engage with their fans throughout the year and we wanted to provide a resource that businesses could reference each month for new ideas."
ShortStack's eBook takes the challenge out of coming up with fresh and innovative app ideas month after month. Each monthly guide includes app ideas and instructions for how to build them all using the ShortStack platform.
App ideas for business Pages range from promotions and giveaways to resource apps, newsletter signs ups, Instagram and Pinterest integrations, blog feed, maps, save-the-date, menus, thank you apps, and specific holiday apps. For April, ShortStack suggests businesses look into running a virtual gifts Easter app, an Earth Day sweepstakes and an all-in-one blog app.
Businesses can access the 12 months of Facebook apps through a landing Page that displays the 12 individual guides and a download of the complete PDF that includes all 36 app ideas.
Businesses turn to third-party software, such as ShortStack, that provides a platform to build custom Facebook Page apps that are fully functional on desktop and mobile devices. ShortStack delivers these services through a do-it-yourself platform consisting of more than 40 tools, 100 templates plus an extensive library of support documents, videos, references, and an email support system.
To download ShortStack's 12 Months of Apps Guide, click here
About ShortStack
ShortStack is a self-service custom app design tool with features that include contests and sweepstakes, newsletter signup forms and integrations with YouTube, Twitter, RSS and more. ShortStack apps can be installed wherever – to Facebook, websites and blogs, and they're even viewable on mobile devices. To learn more about ShortStack, visit http://www.shortstack.com.