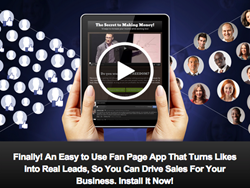 (PRWEB) April 21, 2014
22Social, a San Diego social media marketing company, has just launched a solution to a common dilemma many tech-unsavvy small business owners run into: "How In The World Do I Make A Great Website (*breathe* 2 second pause) For Free Or Very Cheap?"
At first 22Social's new solution, software that runs completely inside of Facebook fan pages, doesn't seem to easily solve this challenge - after all their fan page app doesn't actually make websites.
22Social Marketing Director Jerry Rocco was recently quoted at Traffic & Conversion Summit 2014 loudly proclaiming, "You do not need a website. We do not need a website. nobody needs a website in 2014! With our tool you can turn your current un-amazing Facebook fan page into an ever-growing, lead-capturing asset that also functions as the beautiful online face of your business."
"Now you too can tap into the massive existing user base of Facebook rather than wasting time and resources trying to build your own stand-alone online platform without the skill set to do so, in addition to building your business. Focus on what you're good at and let our technology support the rest!" touted Rocco, working himself into a passionate frenzy praising the benefits of social media marketing and demoing their Facebook marketing tool for event attendees walking by.
Across many industries, thought leaders are taking notice and adopting the platform. From best-selling authors like futurist Lon Safko, to members of the adtech scene like Zeal Caiden of the seemingly underground content marketing agency Zealous Influence, many early-adopters are using the platform to get great results.
When contacted, Caiden offered, "I used to get mad, literally so mad at how hard it was to make beautiful Facebook fan page apps that convert. 22Social came and turned that around, [they] gave us a conversion lift from test one. Plus it makes mobile easy. I love those guys."
Even the renowned Facebook fan page gallery Facebook Designs, frequent design muse of TechCrunch and Smashing Magazine, has decided to hop on the "22Social no website bandwagon" and has repurposed their site to exist entirely on Facebook, even heavily promoting the use of 22Social and their social media marketing plan templates on their new, possibly too ironic "How To Make A Website" fan page.
View Facebook Designs' Interesting "Not Website" Live Here - http://facebookdesigns.org.
*Note to those interested in 22Social for Personal or Business Use - Try Facebook Designs' above social media campaign URL for an example of a marketing plan that works on your mobile device, whether or not you are logged in to Facebook. No other fan page software gives you 22Social's device delivery intelligence, and at the time of publish many Fortune 500 haven't even adopted this level of societal marketing and targeting yet.
Despite what seems to be growing enthusiasm about their company in the marketplace, it remains to be seen if 22Social will stand the test of time and emerge as a world leader in social media marketing or crumble by the wayside like so many other social startups before it.