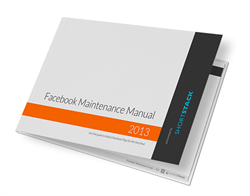 Reno, NV (PRWEB) November 13, 2013
ShortStack has released a Facebook maintenance manual that helps businesses build a long-term presence on the social network. The 21-page guide walks businesses through setting up their business Page, including how to convert an existing personal profile to a Page, managing the Page on a day-to-day basis and also provides suggestions for frequency and quality of posts. Download the guide for free here.
For businesses that are new to Facebook or just want to use the platform more effectively, the Facebook Maintenance Manual offers tips about how to use some of Facebook's more advanced functions. It's designed to help businesses optimize their Facebook presence, demonstrate how to setup and maintain a Page for success and educate Page administrators about how to use custom apps to leverage information they collect from fans.
The Facebook Maintenance Manual includes the following chapters:
--How (and Why) to Convert a Facebook Profile to a Page
--Facebook Admin View
--How to Change a Page's Name
--Why It's Important to Assign Admin Roles and Establish Rules
--How to Choose Whether You Post as the Page or as Yourself
--How to Customize Status Updates
--Tips for Better Timeline Posts
--How to Choose the App Provider that will Give Your Facebook Page Super Powers
--How to Manage Your Timeline Apps
--How to Make the Most of Your Facebook Page's Cover Photo
--Facebook Maintenance Schedule
ShortStack's Facebook Maintenance Manual is available for free and available to any business looking to enhance their Facebook presence. The manual was released shortly after Facebook's third-quarter earnings report was released and Facebook announced that the network had 1.19 billion monthly active users and 728 million daily active users. Businesses also took an interest in Facebook's mobile fan growth making the social network a hot spot for businesses looking to connect with their customers everywhere they go.
About ShortStack
ShortStack is a self-service web app design tool that allows individuals and businesses to create custom Facebook apps for their Facebook Pages. The dynamic platform contains more than 40 tools and templates where users can integrate fan-gates, contests, sweepstakes, RSS feeds, Twitter, YouTube, and MailChimp newsletter signups that maximize their social media presence and potential. Custom Facebook apps designed using ShortStack are viewable via a mobile device or PC. To learn more about ShortStack visit http://www.shortstack.com.
###