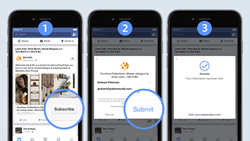 This is a huge advancement for companies looking to generate targeted leads on Facebook. - Evan Weber, Facebook Marketing and Advertising Expert
Fort Lauderdale, FL (PRWEB) October 19, 2015
Experience Advertising, Inc, a leading digital marketing agency that specializes in Facebook advertising, has announced that they are now offering management for Facebook Lead Ads. Facebook Leads Ads is the newest advertising product from Facebook that allows companies to collect customer information quickly and easily through targeted form fills. Facebook Lead Ads allow people express interest in a business' product or service by filling out a form with their details which enables that business to follow up with them or add them to their databases.
Facebook Lead Ads provides a simpler way for people to fill out forms on their mobile devices. Lead Ads can be used to collect: sign-ups for newsletters, price estimates, follow-up calls, and business information. Facebook Lead Ad forms can can be fully customized with open-ended questions, multiple choice questions, and contact fields to collect the information that business are looking gather from new prospects. When a person clicks on one of these lead ads on their mobile device, they are taken to an on-Facebook form where they can edit and confirm their pre-populated information before clicking the "submit" button. Once the user clicks the submit button the lead is sent to the advertiser through one of several CRMs Facebook integrates with like Salesforce, or can be connected through an API to whatever CRM or database the company uses.
Evan Weber, CEO and founder of Experience Advertising, Inc. stated, "This is a huge advancement for companies looking to generate targeted leads on Facebook. Previously, users had to click on a Facebook ad then visit the company's website to fill out the on-site lead form, in order to submit their contact details about a product or service they were interested in. Now, the user never leaves their Facebook feed, which massively increases to conversion rate by speeding up the process and making it a truly 2-click lead submission action. Because the process is much faster and easier this new way, the number of leads gathered from each advertising campaign increases dramatically, which lowers the average cost-per-lead the advertising is paying. This allows companies to generate more leads for their dollars spent, which is always one of the main goals of lead generation campaigns. I expect average conversion rates to be in the 50% or great range as opposed to the 10-20% range which is typical of most traditional website based lead generation campaigns. The result for the advertiser is a greater number of leads generated for their ad spend, which should allow advertisers to get a better return on their Facebook advertising campaigns. Basically a win-win situation all around."
Some of the ways companies can use Facebook Lead Ads are:

Newsletter signups - to gather email addresses and newsletter preferences (ex: type of content, preferred timing to receive newsletter).
Inquiry/interest forms - collecting: name, email, phone number, what product or service they're interested in, and other qualifying details.
Applications, pre-orders, sign-ups - gathering qualifying answers, contact details, and what product they're interested in.
Sign-ups for deals, coupons, offers - collecting email addresses and which offer they're interested in.
Registrations for events such as conferences and grand openings - collecting contact details and event preferences.
Contests and sweepstakes - gathering contact details and contest answers.
Insurance quotes - gathering qualifying questions, contact details, and what product they're interested in.
New car quote/configure a car - collecting qualifying questions, contact details, and what product attributes they're interested in.
Product sampling - collecting name, street address, what product they're interested in.
Downloading a white paper or sign up for a webinar - collecting contact details and what product they're interested in; ideal for B to B sales lead generation.
Facebook Lead Ads represent an exciting and revolutionary way for businesses to grow sales leads, opt-in emails, applications, quote interest, contest entries, and other data collection strategies. If you are interested in learning more about how your business can effectively utilize Facebook Lead Ads, contact Experience Advertising for a complimentary evaluation.