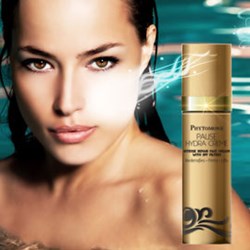 I am thrilled with the results for this face cream! Menopause was getting me down - it's given me back my confidence. - Joan Crutchley
London (PRWEB UK) 6 February 2014
Phytomone available exclusively on Facebook is the first premium skin care collection to be nutritionally-tailored buy a team of skin therapists, clinical nutritionists and cosmetic chemists to provide hormonally changing skin with the specific cell nutrients it requires during menopause.
It is the brain child of Jane Atherton, author of two books on menopause and over 30 years' experience in the health and beauty industry in the UK, Asia and the Caribbean.
The initial collection comprises of 6 skin care products, and will launch in the UK on Feb 8th 2014 with their 'Hero' product of the line 'Pause Hydra Crème' Intense repair face cream. This innovative new quadra-care formulation offers four benefits in one cream – Moisturiser, Serum, Eye Cream and Neck Cream.
It has been expertly formulated to include the latest in scientific advances, including phyto stem cell technology and powerful plant hormones, together with superior oils chosen for their topical nutritional bioavailability and effectiveness in penetrating the skins dermal layers. Skilful blending at high concentration levels ensure the benefits of a serum combined with superior moisturising capabilities, making this unique formula perfect for targeting the face and décolletage concerns, yet light enough to use as a highly effective eye cream.
Atherton has also created Skin Exhaustion Cleansing System, complete with unique bamboo cloth, Mood Swings Balancing Body Oil, Sleepless Nights Calming Face Oil, Secret Essence Intimate Moisturiser and Inner Goddess Capsules to help balance hormones and address the symptoms brought about by menopause. The products have all been developed to nourish the skin with natural vitamins, minerals and nutrients it requires during the transitional stage of menopause and beyond. The phyto-estrogen rich products help repair, rebalance and renew skin challenged by low hormone levels to give women better confidence, beauty and radiance during this often tumultuous time. They will be available early 2014.
'I wanted to make this collection more than 'anti-ageing', I wanted all of the products to be treatment products, that work for women in the best possible way during this stage of life. – So, as well as addressing the usual concerns of fine lines, wrinkles, sagging etc. I wanted the ingredients to have therapeutic values too. So, we tried and tested and then carefully selected the most beneficial oils, plants and herbs known for their abilities to have positive effects in treating menopause.
We have many exciting products in the pipe line, not only skin care, but a whole lifestyle concept, which we hope will make Phytomone a recognised and trusted brand for all menopausal women.
But for now Atherton says 'I am tremendously excited about the launch of Pause Hydra Crème – It has been 3 years in development. We had to make sure the actives were perfectly balanced and the concentration levels were high enough to offer 'Protection, Prevention and Cure' as well as having a unique delivery system, allowing them to penetrate the deeper layers of the skin to give intense nourishment. In addition, the synergy of phyto-hormones, therapeutic essential oils and infusions of wild yam and sage had to work well to address the concerns of hormonal skin.
The result is a luxurious, velvety cream with a fresh uplifting aroma that is absorbed easily into the skin, leaving a cool tingling sensation (perfect for the hot flushes) and a beautiful radiant glow. The algae based active offers an instant face lift effect with long term results, so it really does feel like every cell on your face and décolletage is being tightened instantly, while the essential oils, plants and herbs work subliminally to help treat symptoms connected to menopause and hormone imbalance.
Atherton's two books The Menopause Secret and 30 Day Menopause Concierge Programme offer invaluable advice for women going through menopause and are the perfect complement to her skin care collection, they are available from amazon.com/.co.uk. Further information on menopause and product availability can be found on her website http://www.phytomone.me/buyphc.