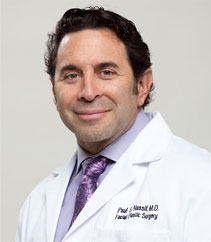 Beverly Hills, CA (PRWEB) August 04, 2015
Patients are invited to take advantage of a personal consultation complete with full examination now offered by the world renowned Beverly Hills facelift surgeon, Dr. Paul Nassif. The opportunity to achieve a more beautiful aesthetic facial appearance through cosmetic surgery techniques helps individuals to achieve an outer appearance that meets their personal goals. This consultation with full examination now offered by Dr. Nassif gives patients the opportunity to express their desires and find solutions to achieve their ideal appearance.
"It is rare that we run across an individual that feels completely satisfied with their facial appearance," said the Beverly Hills facial plastic surgeon. "I am happy to offer insight into ways to achieve a more attractive appearance through a personal consultation, complete with a full examination."
Dr. Nassif finds that most patients have their mind made up about treatment before they ever meet with a surgeon. Yet, the belief that one feature is causing the lack of facial harmony may be proven false through an examination. A patient may assume that they need a full facelift, when in reality it would be smarter to take the conservative approach with an upper or double eyelid procedure alone.
Rejuvenation techniques that are frequently suggested include:

Facelift surgery
Eyelid surgery
"Some patients want to change the size or shape of a feature, but others simply want a rejuvenation to decrease the signs that they are getting older," explained Dr. Nassif. "It is my job as a professional to guide these individuals toward the right solutions so that they can feel satisfied with the final result."
During the consultation, the surgeon is going to create an entire procedure plan to set realistic expectations for the patient. It is an opportunity to get a professional opinion regarding problem areas, without being obligated to make any decisions on the spot. Potential patients are encouraged to ask questions and discuss all of the provided options so that they can feel confident in the recommended solutions.
The Beverly Hills facial plastic surgeon, Dr. Paul Nassif, has gained notoriety in the medical community for providing exceptional treatment to all patients. With specialization in rhinoplasty, the surgeon has expanded his expertise over the years to include other facial techniques, as well. Dr. Nassif provides rejuvenation options with emphasis on concealing incisions, leaving minimal scarring, and providing results that look as natural as possible.