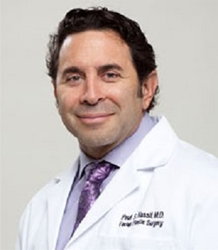 Beverly Hills, CA (PRWEB) April 14, 2015
Dr. Paul Nassif, renowned expert in facelift surgery in Beverly Hills, now offers patients non-invasive solutions in addition to the traditional facial surgery techniques. By providing patients with multiple solutions that fit various financial situations and lifestyles, it is easier for people that desire plastic surgery to have a way of obtaining treatment.
"Aesthetic rejuvenation techniques are often considered primarily marketed toward wealthy individuals that can afford an investment that only offers a very personal reward," Beverly Hills lower facelift surgery expert, Dr. Nassif stated. "I want people to have options regardless of their financial status or other factors that may prevent treatment."
In addition to being a lower cost than invasive techniques, non-surgical facelift options offer the following advantages:

Immediate results
Shorter recovery time
Less side effects
No anesthesia
"Anyone that compares facelift surgery before and after pictures will understand how successful the non-invasive options are," the Beverly Hills facelift surgeon said. "People these days want simple procedures that provide fast results without a major commitment."
It can take months to feel completely adjusted after an invasive facelift, especially if there are complications during or after treatment. At least one week away from work is required while the majority of physical side effects are too fresh to cover with cosmetics. This is not suitable for people who cannot afford to miss consecutive days of work, or they have other obligations that prevent adequate downtime.
Filler injections, chemical peels, and laser therapy are a few of the facelift techniques that have noticeable results without a major risk of side effects. Wrinkle reduction through improved skin elasticity and collagen production help the face to gradually recover from obvious age signs. Injecting filler helps with deep wrinkles and it can be placed into the lips or cheeks to enhance attractive contours. Avoiding invasive techniques eliminates time recovering from incisions and the chance of adverse side effects.
Non-invasive facelift techniques require additional treatments over time to maintain a youthful appearance, especially in older patients who have significant age signs. The results appear very natural, without the likelihood of over-correction or similar complications.