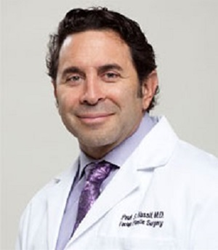 Los Angeles, CA (PRWEB) May 17, 2016
Los Angeles facelift surgeon, Dr. Paul Nassif, announces that he is now providing a variety of procedures for facial rejuvenation. Facelift surgery has long been used to eliminate facial imperfections and restore a youthful appearance. With several treatments that target specific aspects of the face, Dr. Nassif gives patients more options for improving their looks. While a number of surgical procedures are offered by Dr. Nassif, several nonsurgical options are available, as well. Understanding the choices available for facial rejuvenation is valuable for patients planning to enhance their appearance this way.
Facelift, brow lift, rhinoplasty, and double eyelid surgery are four of the most popular surgical procedures for facial rejuvenation. Facelift, also called rhytidectomy, targets a variety of common facial flaws. Crow's feet, forehead lines, and sagging jawline are a few of the issues that facelift surgery can resolve. Brow lifts targets the wrinkles and creases that often appear on the forehead with age, making patients look more youthful, energetic, and calm. A rhinoplasty, or nose job, can correct cosmetic complaints, such as a bulbous nose and abnormal nostrils, as well as issues like a deviated septum, which can interfere with breathing. Eyelid surgery can be used to eliminate several issues, including drooping eyelids, bags under the eyes, eyelid puffiness, and epicanthal folds. Rhinoplasty cost, eyelid surgery cost, and other treatment expenses can depend on the extent of the process required.
Non-surgical cosmetic treatments can rejuvenate facial appearance with fewer complications, lower costs, and reduced or absent recovery time. Lip augmentation and cheek augmentation are two of the most common procedures in this category. Cheek augmentation involves using fillers to round out the cheeks or reduce sagging. During lip augmentation, fillers are used to enhance the size and shape of the lips. Cheek and lip augmentation cost can both depend on goals and the amount of treatment required.
Dr. Paul Nassif is an acclaimed plastic surgeon specializing in cosmetic treatments and reconstructive surgery. A noted provider of Los Angeles celebrity nose jobs, Dr. Nassif is a reputable member of several professional organizations, including the American Medical Association. Dr. Nassif offers specialized cosmetic treatment to patients of different ethnicities and serves the community through a number of charities.