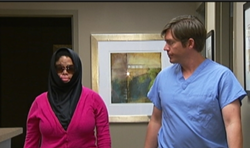 I consider it a privilege to support the mission of Healing The Children because I understand that correcting facial defects can change the trajectory of children's lives, says, Dr. Stong
ATLANTA (PRWEB) February 27, 2019
Committed to donating his time and plastic surgery skills to help those in need of reconstructive surgery, but can't afford it, Dr. Ben Stong is a strong advocate for giving back. As such, in addition to his work for Healing the Children, Stong serves on:

the national committee for the Face to Face Humanitarian program, a surgical exchange program sponsored by the Educational and Research Foundation for the American Academy of Facial Plastic, and
the Reconstructive Surgery (AAFPRS) and the National Coalition Against Domestic Violence (NCADV) and the National Domestic Violence Project, including the Faces of Honor and International Assistance programs.
"I consider it a privilege to support the mission of Healing The Children because I understand that correcting facial defects can change the trajectory of children's lives," says, Dr. Stong.
Dr. Stong share's a personal philosophy of preserving the unique identity of patients, performing an array of facial cosmetic surgery and non-surgical cosmetic and reconstructive procedures. The team's understanding of the social stigma and developmental concerns associated with babies and children born with facial defects and congenital anomalies make them a perfect team.
Healing the Children focuses single-mindedly on helping underserved children secure the urgent medical care that they need. To date, the non-profit organization has made a difference in the lives of approximately 250,000 children in over 95 countries. Comprised of 16 chapters and international partners, HTC's work is made possible by volunteer medical teams and staff, many of which donate personal vacation time and pay their own expenses to travel and serve children in need.
About Dr. Benjamin C. Stong:
Dr. Benjamin C. Stong is dual board certified in Head and Neck Surgery and Facial Plastic and Reconstructive Surgery and is the owner of Kalos Facial Plastic Surgery in Atlanta, GA. Having completed his fellowship in New York City, Dr. Stong combines a reputable level of training with his own proven experience and talent to generate superior outcomes in both surgical and non-surgical cosmetic surgery. In his career, Dr. Stong has earned high prestige and countless recognition, including the Castle Connelly Top Doctors award for consecutive years. Dr. Stong also specializes in hair transplantation and innovative treatments at The K Spa in Atlanta.
For information regarding the upcoming medical mission to Peru, or for ways to help support the vision of Healing The Children please visit http://www.htcnorcal.org.