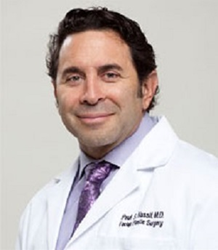 Beverly Hills, CA (PRWEB) October 24, 2016
Beverly Hills facial plastic surgeon Dr. Paul Nassif announces that he now offers non-surgical rhinoplasty procedures, as well as surgical options. Rhinoplasty is one of the most popular plastic surgery procedures, but the invasive nature of surgery and the recovery involved have likely made some patients hesitant to seek this cosmetic solution for themselves. Today, rhinoplasty that does not require surgery has emerged as a fast alternative to traditional nose jobs. Like many other plastic surgery treatments popular today, this form of rhinoplasty uses dermal fillers to achieve dramatic results.
A non-surgical nose job can deliver changes in just minutes. The most common injectable fillers used in these nose jobs are Juvederm, Restylane, and Radiesse. Many changes to the nose can be made this way, including adjusting angles, filling in concaves, and increasing symmetry. As a reputable expert in ethnic rhinoplasty, Dr. Nassif can perform this procedure with respect to the preferred aesthetic outcome of the individual. Nose job cost, whether associated with non-surgical or surgical rhinoplasty, does vary with the individual and their goals.
Dr. Nassif is able to perform a full range of facial plastic surgery procedures, including face, cheek, neck, brow, and eyelid lifts. Face lifts, often used in combination with neck lifts, can dramatically reduce or eliminate wrinkles, worry lines, and other flaws that often come with aging. Brow lifts can be effective at raising sagging eyebrows and foreheads. In addition to non-surgical, surgical, and ethnic rhinoplasty, Dr. Nassif performs revision rhinoplasty to correct unsatisfactory results from prior nose jobs. Eyelid lifts can be used to reduce epicanthal folds or make other cosmetic adjustments to the eyelids. Nose job before and after pictures, along with before and after images from other procedures, can show patients what Dr. Nassif can achieve.
Dr. Paul Nassif is an extensively trained and reputable provider of celebrity nose jobs and other cosmetic procedures. Experienced in traditional and contemporary plastic surgery options, Dr. Nassif is a member of several professional organizations in his field. In addition to performing plastic surgery professionally, Dr. Nassif provides his services through a number of charities.