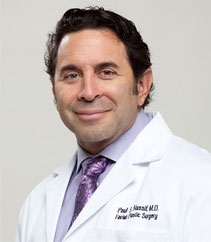 Los Angeles, CA (PRWEB) February 01, 2016
Renowned Los Angeles Asian eyelid surgery expert, Dr. Paul Nassif, is now excited to spread the news regarding the latest procedure trends. Facial plastic surgery has always been popular, with upper eyelid procedures becoming increasingly popular among patients.
"Rejuvenation has always been popular, even for young adults that are experiencing premature symptoms," Dr. Nassif explained. "Tightening the skin and lifting the weak tissue has potential to create a very dramatic physical improvement."
One of the latest trends is exclusive to Asians that do not have the natural upper eyelid crease that they find most desirable. With multiple technique options, every patient has a way to get the result they want with varying degrees of surgical complexity. The most invasive double eyelid procedure allows Dr. Nassif to provide rejuvenation along with the appearance of the fold. A younger patient has more advantage in being able to achieve their ideal appearance with a non-invasive treatment.
"It is possible for the right candidate to change the features of their eyelid with professional treatment," the Los Angeles double eyelid surgery expert said. "I am always happy to provide a consultation to determine the needs of anyone desiring a lasting change."
Dr. Nassif is renowned for all types of facial treatments, including:

Eyebrow lift surgery
Cheek lift
Cheek enhancement
Rhinoplasty
Otoplasty
Lip Enhancement
Every one of the patients that visits the doctor has an opportunity to enhance their image with the help of a professional. A consultation typically begins with a discussion about the desired treatments before the doctor begins the physical examination to determine the best procedure or combination of procedures. After a patient has become a candidate, they can begin discussing the eyelid surgery cost in Los Angeles, as well as their expected recovery time.
All types of patients choose to work with Dr. Nassif because he understands the procedures needed to effectively achieve facial harmony, and he always strives for perfection. His first specialty is rhinoplasty, but people travel across the world to get all types of treatments from the board certified facial plastic surgeon.